How to Make a Burrito: The Ultimate Guide
July 06, 2021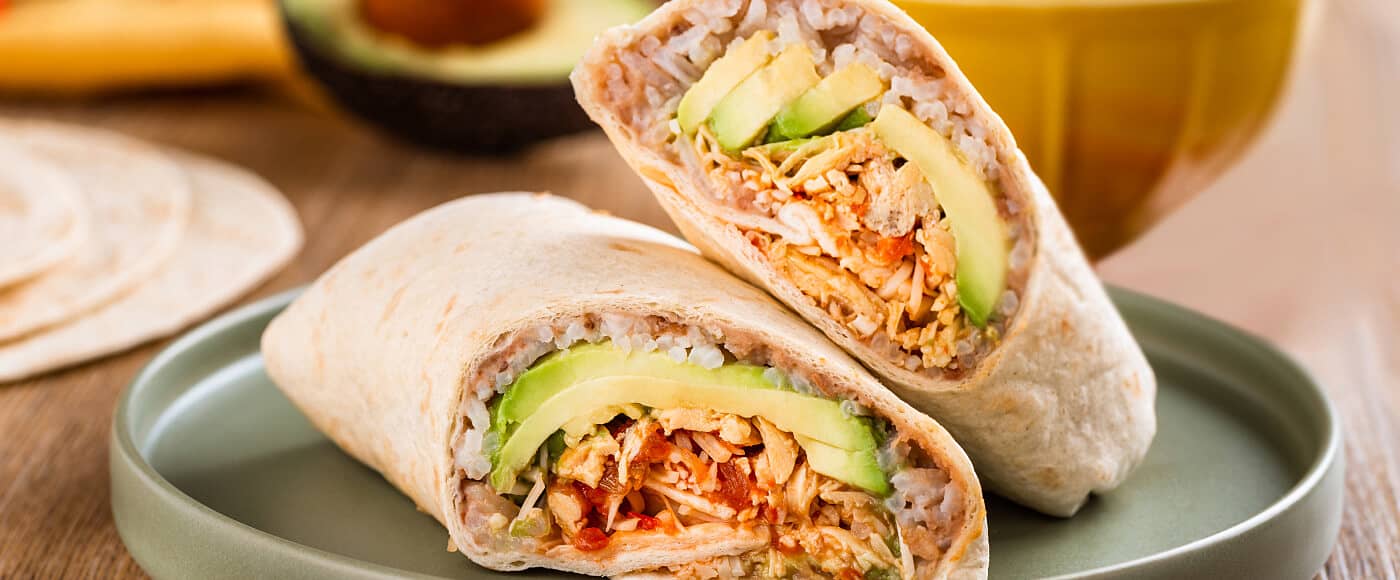 In the mood for Mexican food? It doesn't get much better than a good, old-fashioned burrito! This classic dish is beloved throughout the world, packing all the very best parts of Mexican cuisine into one big, tasty wrap. Wondering how to make a burrito at home? Our ultimate guide to burritos is here to help with everything you need to know about this iconic Mexican meal.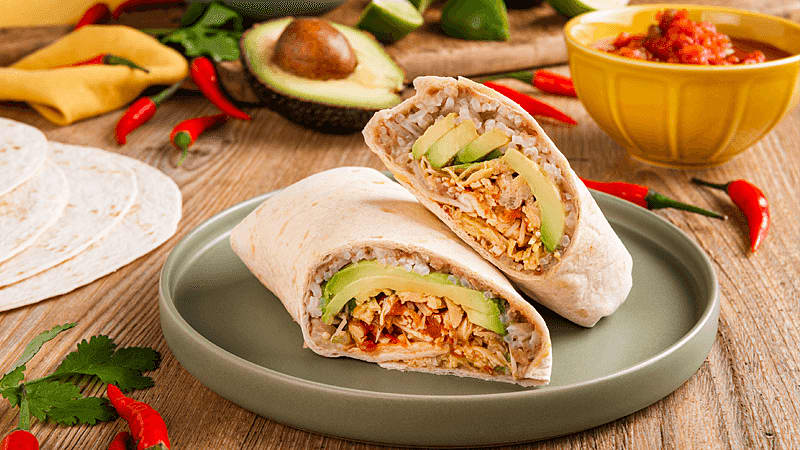 What is a burrito?
Let's start with the basics: what is a burrito, exactly? A burrito is a type of Mexican wrap, usually a flour tortilla, that's filled with refried beans and other tasty toppings, then rolled shut and served piping hot! Traditionally, the burritos found in Northern Mexico are smaller than their US cousins that we've come to know and love today.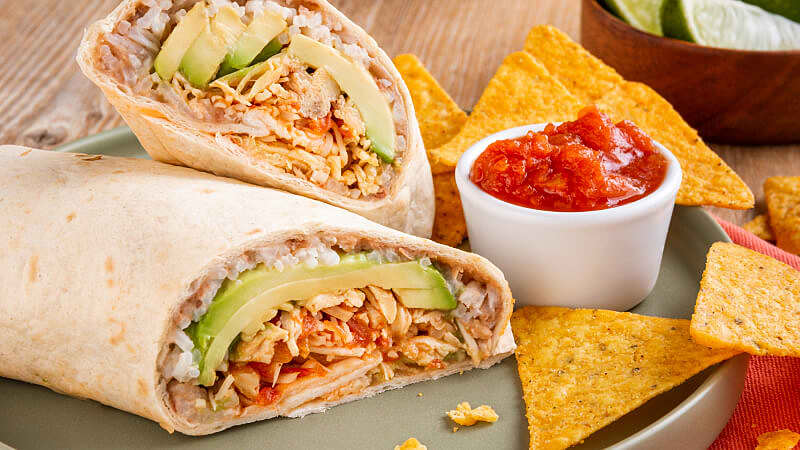 What goes in a burrito?
The beauty of burritos is you can customise them to suit your taste, but the essentials are beans, protein (meat or vegetarian) and salsa, all wrapped up in a flour tortilla. Vegetables, sour cream, guacamole, cheese and rice are also frequently added to the mix – although there's much debate about whether rice truly belongs in a burrito!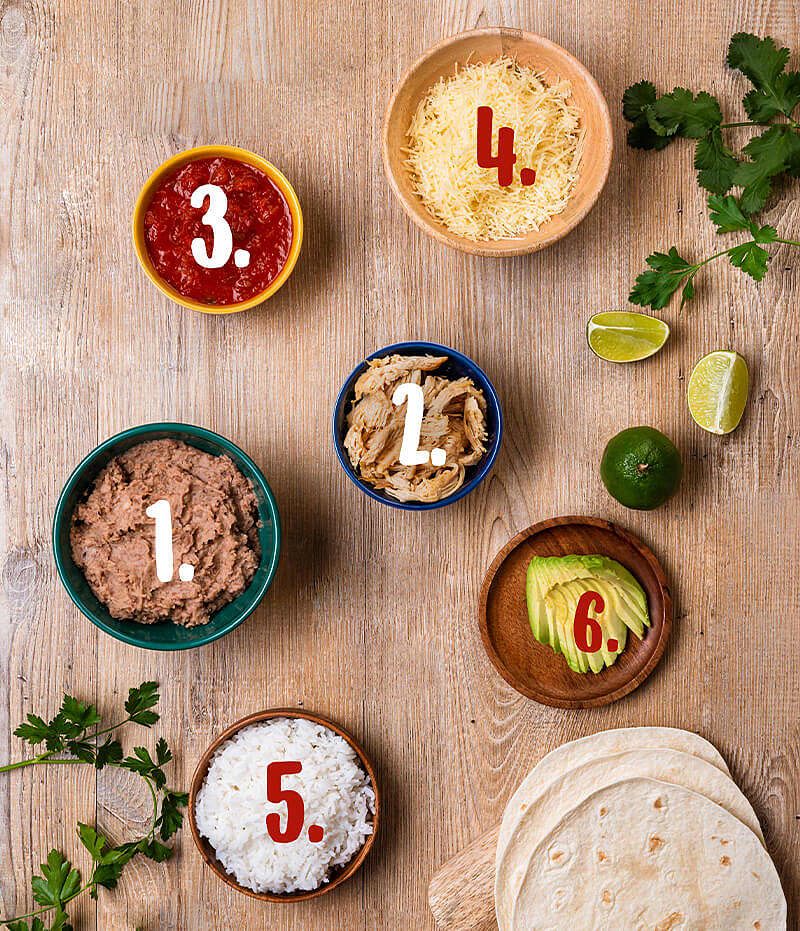 Beans – the two most common types of beans used for burritos are black beans and pinto beans, specifically refried pinto beans. Grab a tin of Old El Paso Refried Beans to save yourself some time.
Protein – chicken or beef are the most popular burrito fillings, but you can also enjoy pork or opt for a veggie filling instead. Our Old El Paso Burrito Kit is perfect to get you started.
Salsa – a good salsa can take your burrito to the next level. Why not mix medium and mild salsa from our selection of Old El Paso Chunky Salsa to add extra flavour?
Cheese – shredded cheese is a must-have on a burrito, but what kind you choose is up to you! Stick to classic Cheddar cheese, go for gooey mozzarella or try some creamy Monterey Jack cheese for a change.
Rice – while it's optional, adding rice into your burrito can make it extra filling and provide a bit more texture. Use cooked white rice or swap for brown rice if you're looking for some more nutrients.
Avocado – another optional ingredient, but one we love to include for a bit of extra flavour and taste. Simply slice a ripe avocado into neat pieces and add it into the mix.

How to make a chicken burrito
It doesn't get more classic than a chicken burrito! One of the most popular Mexican meals there is, it's especially delicious if you slow cook the chicken so it pulls apart easily. Follow our step-by-step recipe below to master the art of the chicken burrito at home!
Recipe Name
Easy Chicken Burrito
Total Time
10 minutes
Spice Level
Mild
Servings
4
Ingredients
Old El Paso™ Super Soft Flour Tortillas
Old El Paso™ Refried Beans
1 Old El Paso™ Thick 'N' Chunky Salsa Tomato Salsa
250g cooked rice
500g shredded leftover cooked chicken
250g grated cheese
1 ripe avocado
Preparation
Pierce the soft flour tortillas package and warm it in the microwave for 35-45 seconds.
Using the back of a spoon, spread a thin layer of the refried beans over each tortilla, almost to the edge. The refried beans help to hold the ingredients and tortillas together.
Add cooked rice, again spreading with the back of a spoon, leaving a gap of about 3cm from the edge of the tortilla.
On top of the rice, add sliced avocado forming a rectangular shaped "column". Fresh ingredients like lettuce, red cabbage, or tomato work great, too.
Use a fork to shred the leftover chicken into bite-sized chunks and layer on top of the column of avocado.
Alternatively, to prepare uncooked chicken, place oil in large frying pan over a medium heat, add the chicken and cook until the meat is golden in colour no longer be pink inside.
Spoon a dollop of salsa on top of the chicken.
Sprinkle grated chicken on top of the salsa.
Option: add your favourite Mexican garnishes like coriander, chillies, radishes, or a squeeze of lime.
To Serve:
Now it's time to roll. Position the tortilla, so the "column" runs left to right and fold in the two sides using both hands.
Then tightly roll the tortilla from the bottom to the top while maintaining the edges' firm grip.
Cut the burrito in half and serve with crisps, tortilla chips, or even French fries.
Or, for a more authentic Mission Burrito style, wrap the burrito in foil — perfect for packed lunches or on the go.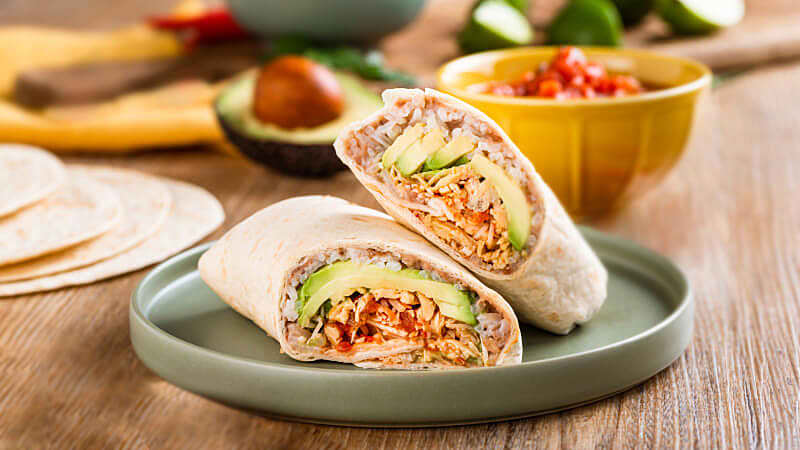 How to wrap a burrito
Now for the tricky part – how do you wrap a burrito? It all comes down to adding the right amount of filling. Add too much and it's pretty impossible to wrap a snug burrito for cooking; add too little and you're missing out on some delicious food! To help, watch our tutorial below to wrap the perfect burrito every time.
MORE DELICIOUS
BURRITO RECIPES
EXPLORE
OUR BURRITO RECIPES
We've got a variety of amazing burrito recipes to choose from, whether you're in the mood for something veggie or meat. Start the day with a filling breakfast burrito or enjoy this classic Mexican dish for a loaded lunch or delicious dinner..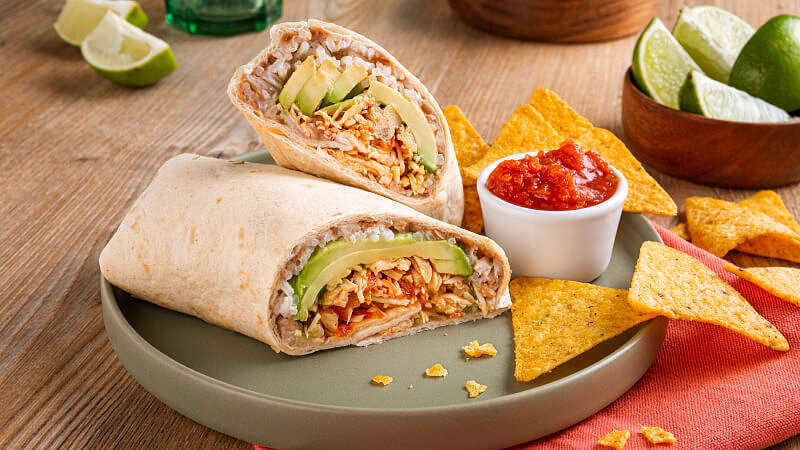 Burrito side servings
While a burrito can be enjoyed on its own, you can fill your plate with some sumptuous sides for a filling Mexican meal. Some of our favourite side dishes for burritos include:
Tortilla chips – perfect for sharing with friends and family, tortilla chips can add a satisfying crunch to your meal. Don't forget a generous helping of guacamole and salsa for dipping!
Refried beans – if you've packed your burrito full of other delicious ingredients like sweet potato, serve up some refried beans on the side instead. The best of both worlds!
Salad – you can't go wrong with a crunchy side salad with your burrito. We recommend chopping up some ripe avocado, tomatoes and jalapeños (if you like some heat) and mixing them together with olive oil and lime juice.
Mexican rice – there may be some debate about whether rice belongs in a burrito or not, but it certainly makes a great side dish! Mix in some coriander and extra veggies for added bite!
Corn – whether you're a fan of corn on the cob or prefer it in a bowl, crunchy corn is a fantastic side dish for burritos. Charring your corn and pairing some chilli and freshly squeezed lime provides a great balance of flavours.
What is the difference between a burrito and fajita?

Burritos are large tortillas that are stuffed with meat, vegetables and other juicy fillings, and served as a hot wrap. Fajitas usually contain grilled meat and charred vegetables, which are served on a skillet with flour tortillas on the side to fill yourself.

How do you reheat a burrito?

We don't recommend using a microwave to reheat a burrito, as the filling may make it go soggy. The best way to reheat a burrito is to wrap it in a layer of protective foil to hold its shape and place it on a baking tray in the oven on a low heat. The burrito will gradually reheat and your fillings will remain just as they were intended.

Burrito literally translates to "little donkey" in Spanish, which could refer to the round bedrolls commonly carried by donkeys in Mexico.

Where did burritos originate?

The exact history of the burrito is unknown, though it grew in popularity around the 19th century, particularly in California. Farmworkers would often prepare a burrito of beans and salsa as an easy lunch.

Are burritos gluten-free?

Burritos can be gluten-free if you use corn tortillas, as opposed to wheat tortillas.

When is National Burrito Day?

National Burrito Day is celebrated on the first Thursday in April each year and celebrates one of Mexico's most popular dishes!