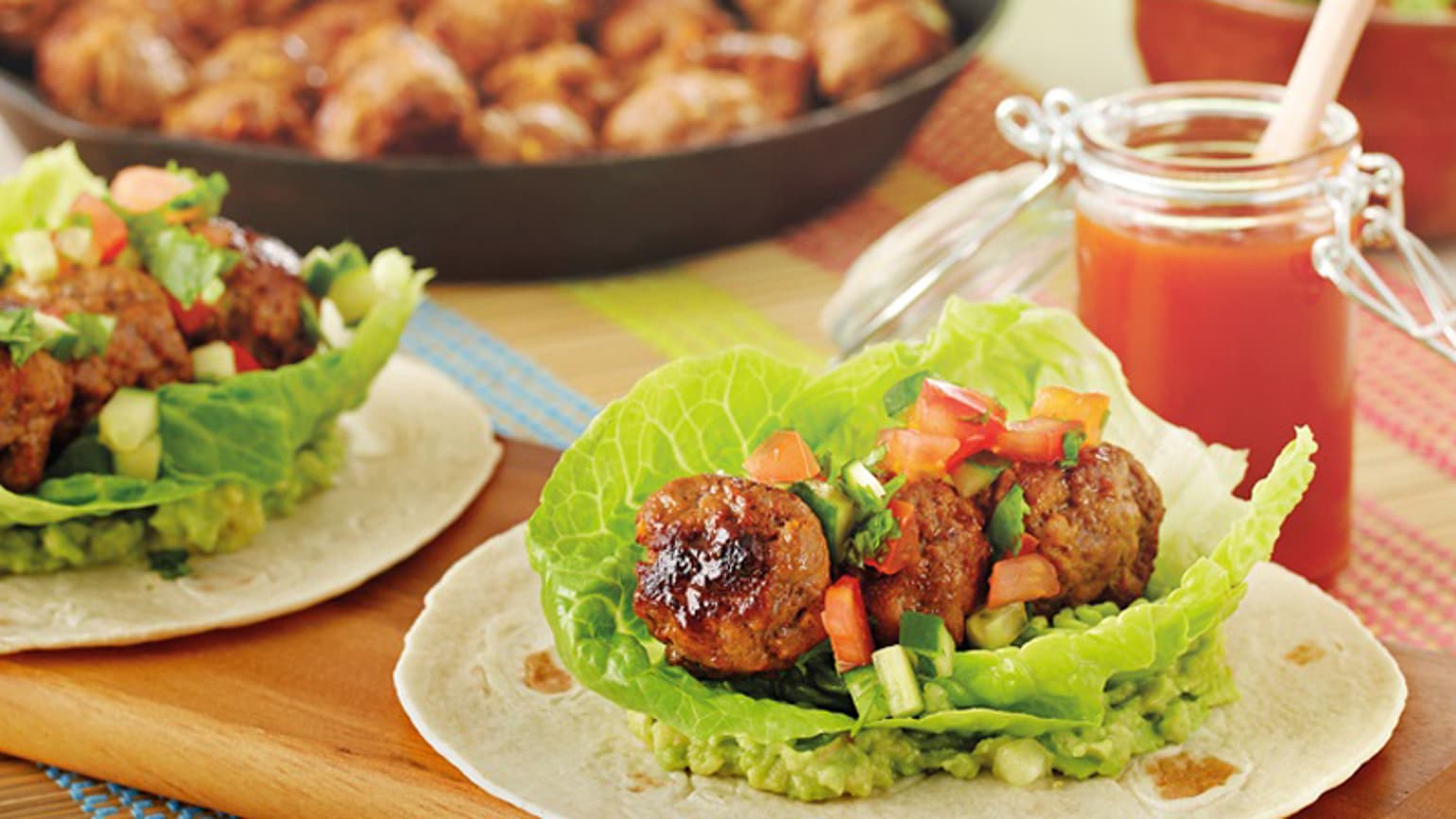 Soft Tacos with Meatballs
This delicious Old El Paso™ recipe creates a delicious Mexican meal of soft meatball tacos for 4. Using our Soft Taco Kit, it's a delicious recipe with flavours of fresh coriander, cucumber and minced beef.
Ingredient List
1 Old El Paso™ Soft Taco Kit
500 g minced beef
1 avocado
Baby Cos lettuce leaves
1 cup finely chopped fresh coriander
1 finely chopped large tomato
1 finely chopped cucumber
Baby Cos lettuce leaves
Preparation
Combine beef, and taco seasoning, mix till well combined. Form into small balls (makes approx. 30) Heat a little oil in a frying pan & cook over high heat for 5 minutes or browned and cooked through.
Mash avocado in a small bowl. Mix coriander, tomato and cucumber to make a salsa.
For warm Soft Tacos, open Soft Taco pouch, discard Freshness Sachet. Microwave Soft Tacos in pouch on HIGH/1100 watts/100% power for 40 seconds* or remove from pouch, wrap in foil and heat in oven at 180ºC conventional (160°C fan forced) for 10 minutes. *Times may vary depending on microwave wattage. Decrease time for fewer Tortillas. Increase time when using a microwave oven lower than 1100 watts.
Serve warmed Soft Tacos topped with a spoon of avocado, lettuce leaf, meatballs fresh salsa & Mild Taco Sauce.