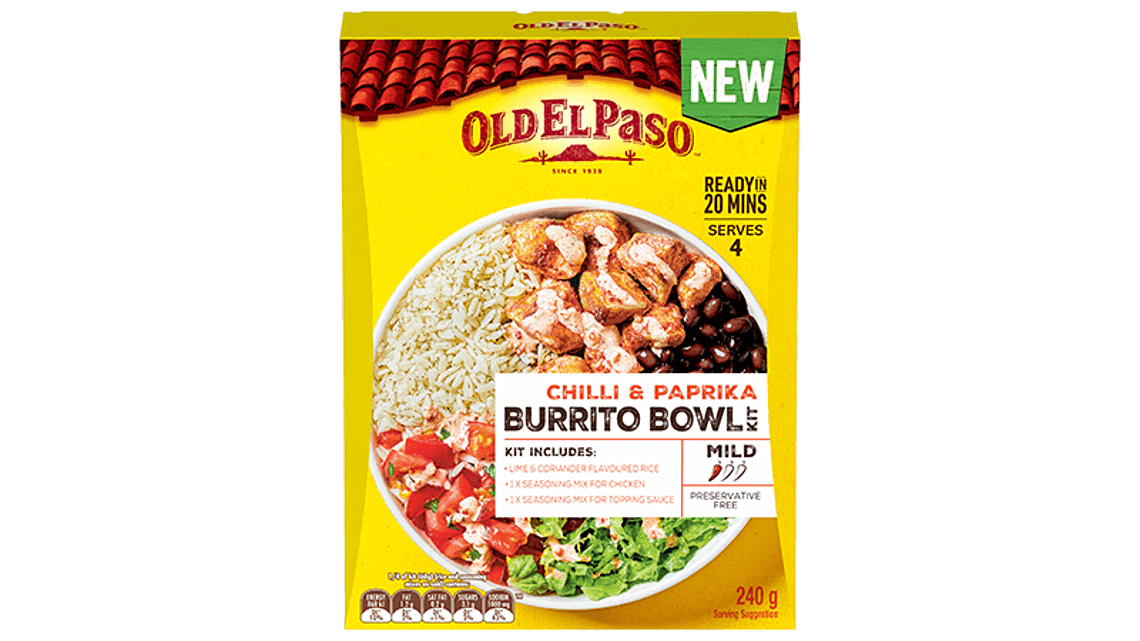 BURRITO BOWL KIT
Mealtimes are made easy with our Burrito Bowl Kits. Enjoy a Mexican inspired dinner in just 20 minutes. Included in our kit are a lime and coriander rice, chili and paprika seasoning mix, and one seasoning mix for a topping sauce.
Ingredients
Seasoned Rice (83%): White long grain parboiled rice (95%), salt, vegetable oils, sugar, potato maltodextrin, flavour, onion, parsley, garlic, fructose, modified tapioca starch (1450), food acid (potassium citrate).
Seasoning mix for chicken (13%): Garlic powder, spices (chili (7%), paprika powder (7%), guajillo chili, black pepper, habanero chili), maize starch, salt, onion powder, tomato powder, oregano, sugar, food acid (citric acid), anticaking agent (calcium phosphate), marjoram, paprika extract, smoked potato maltodextrin.
Seasoning mix for topping sauce (4%): Glucose syrup, salt, dextrose, onion, paprika flakes, spices (cumin, cayenne pepper, coriander seeds, paprika, black pepper, ginger), yeast extract, food acid (citric acid), garlic powder, anticaking agent (calcium phosphate), oregano, vegetable oil, parsley, natural flavour.
Nutrition Facts
What's Inside
1 Seasoned Rice
1 Seasoning Mix for Chicken
1 Seasoning Mix for Topping Sauce
Just Add
500g of chicken
150g natural yogurt
Toppings: Chopped tomatoes
1 can of black beans
Lettuce
From time to time, reformulations of products may alter nutrient value, ingredients and/or allergens. Maintaining on-line information accuracy at all times can be difficult. In the event of a conflict between the data that is shown on this site and that which is on the package, the data on the package should be the primary resource for accurate and up to date data for the product in the package.

Disclaimer: As ingredients do change from time to time, this is only intended as a guide and you should check the pack before consuming. If you require specific information, please call us on 1800 688 313.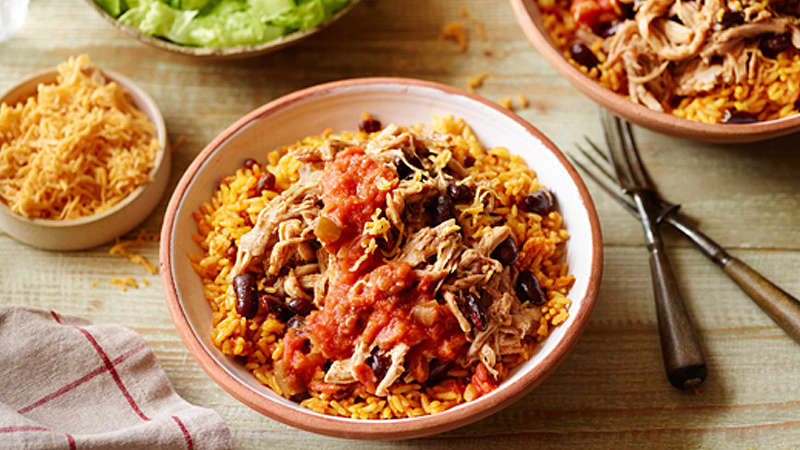 Slow-Cooker Pork Burrito Bowls
Skip the tortillas and serve a spicy pork filling on top of colourful Spanish rice. Olé!
Get Recipe