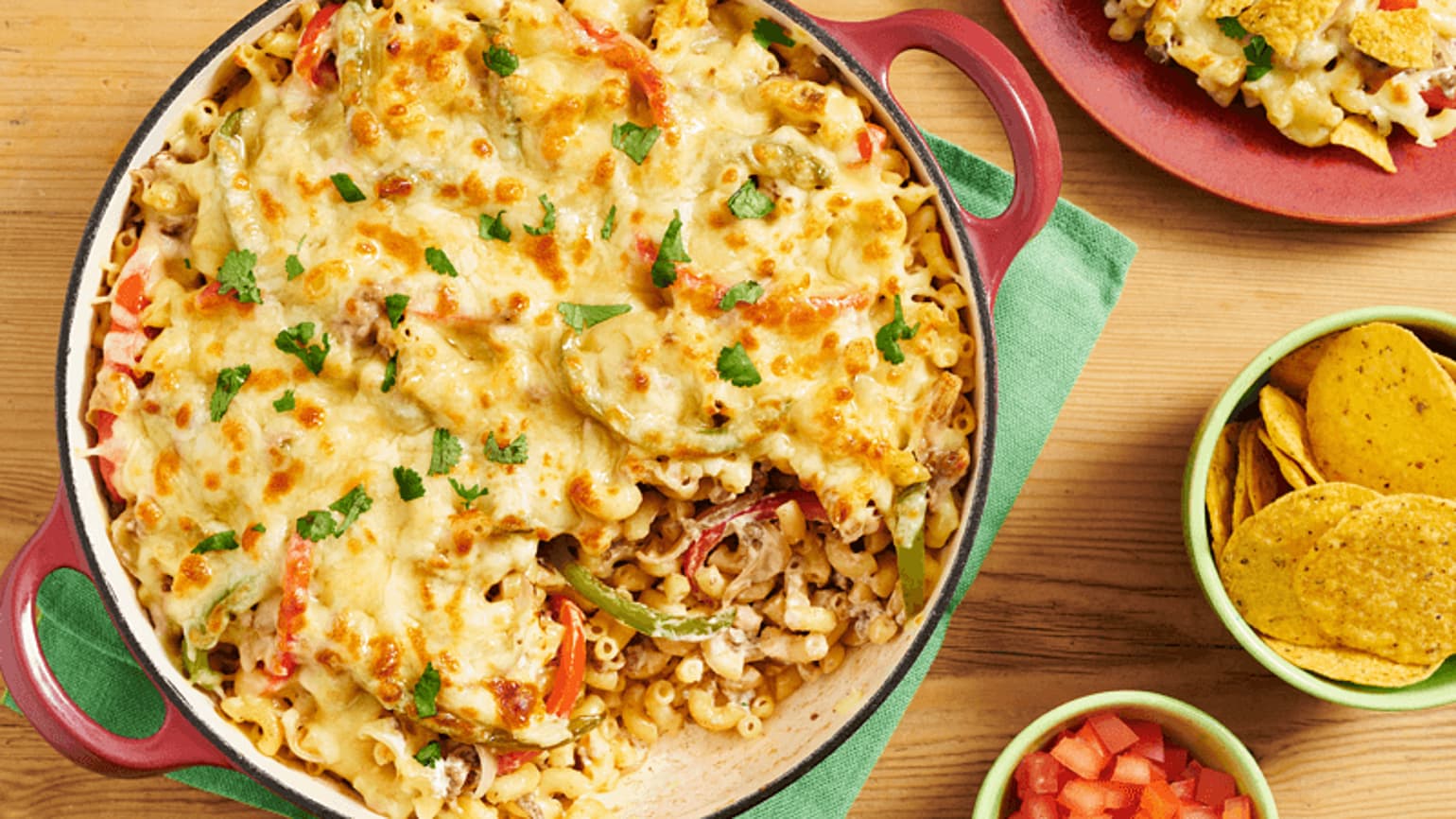 Beefy Fajita Mac and Cheese
Feed a crowd on a budget with this fabulously easy one-pan pasta dish – it's packed with spicy beef and capsicums and loaded with melting cheese!
Ingredient List
1 tablespoon vegetable oil
1 large onion, thinly sliced
500g 5% fat beef mince
1 red capsicum, deseeded and thinly sliced
1 green capsicum, deseeded and thinly sliced
1 sachet Old El Paso™ Fajita Spice Mix
500g macaroni
1/4 teaspoon salt
180g full-fat soft cheese
200g ready-grated mozzarella and Cheddar cheese
1 tablespoon freshly chopped coriander, to garnish
50g Chips, roughly crushed (optional)
Preparation
Heat the oil in a large deep flameproof casserole over a medium heat. Add the onion and cook for 5 minutes until softened. Add the beef mince and capsicums and cook over a high heat, stirring frequently, for 5 minutes until the beef is no longer pink. Stir in the seasoning mix and cook, stirring, for a further 5-6 minutes until the beef is cooked through and the capsicums are just tender. Transfer to a heatproof bowl, cover and set aside.
Pour 1 Litre cold water into the casserole and bring to the boil. Stir in the macaroni and salt. Bring back to the boil, partially cover, reduce the heat to medium and cook for 8-9 minutes, stirring occasionally, until the pasta is cooked. Do not drain (see Tips).
Gently stir the beef mixture into the pasta and cook for a further 1-2 minutes until heated through. Remove the casserole from the heat. Add the soft cheese in small spoonfuls, gently stirring until melted. Scatter over the grated cheeses and cook under a preheated grill for 1-3 minutes until the cheese is melted and bubbling. Serve from the casserole, garnished with the coriander. Top each serving with crushed tortilla chips, if you like.
Expert Tips
This recipe will work just as well with other types of mince – try pork, lamb or turkey.
Unlike cooking pasta normally you don't need to drain away the cooking liquid. It will gradually be absorbed by the pasta or evaporate so increase stirring towards the end of the cooking time to prevent the pasta sticking to the base of the casserole.
For a pop of colour and freshness, top with deseeded and diced tomatoes.