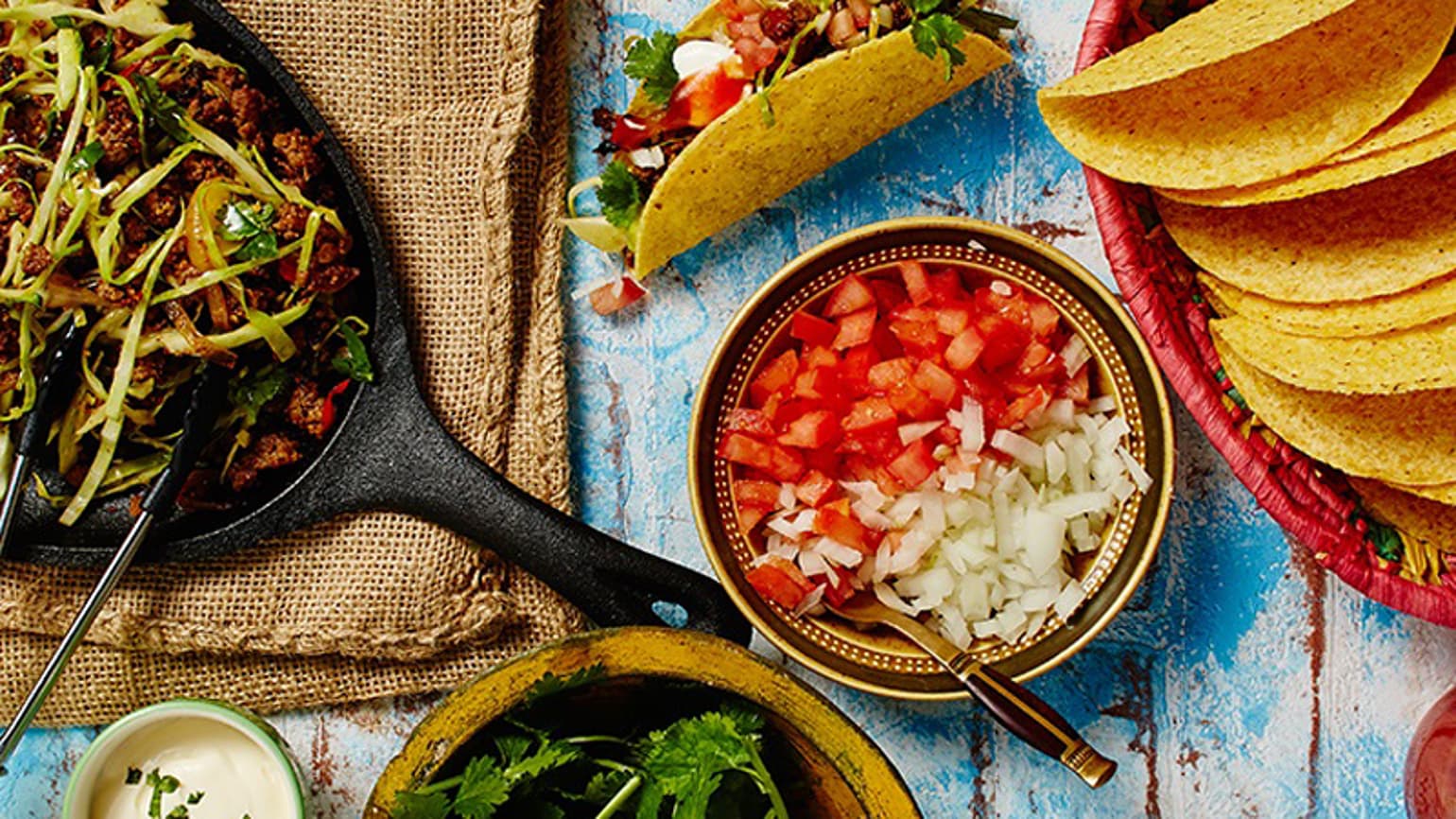 Chapas Style Beef Tacos
Serve up a different dinner for 4 with this Old El Paso™ recipe for cabbage and beef hard tacos. Use our Taco Shell Kit, beef and other fresh ingredients such as cabbage, red chili and coriander to put a saucy spin on a family classic.
Ingredient List
1 Old El Paso™ Taco Shell Kit
500g beef or pork mince
2 tablespoons olive oil
1 onion, thinly sliced
1 clove garlic, finely chopped
1 red chili, thinly sliced
1 tomato, diced
1/2 mini cabbage, shredded
1/3 cup chopped coriander
Tomato & onion fresh salsa
1 white onion, finely chopped
1 large tomato, finely chopped
To Serve
1 bunch coriander, leaves only
1/2 cup (125ml) sour cream
Preparation
In a medium bowl, using your hands, massage the taco seasoning into the minced meat. Heat the oil in a large frying pan over medium- high heat. Add the onion and cook for 4-5 minutes or until starting to soften, add the garlic, red chilli and tomato cook stirring for a further 2 minutes.
Add mince meat to frying pan, cook for 5 minutes, breaking up with a wooden spoon. Add cabbage and continue cooking for 5 minutes or until the cabbage has wilted. The mixture should be moist but not watery. Combine the fresh salsa ingredients in a small bowl and set aside.
For deliciously crunchy taco shells, follow on pack instructions.
Serve warmed tacos with beef and cabbage mixture, fresh salsa, coriander and sour cream.