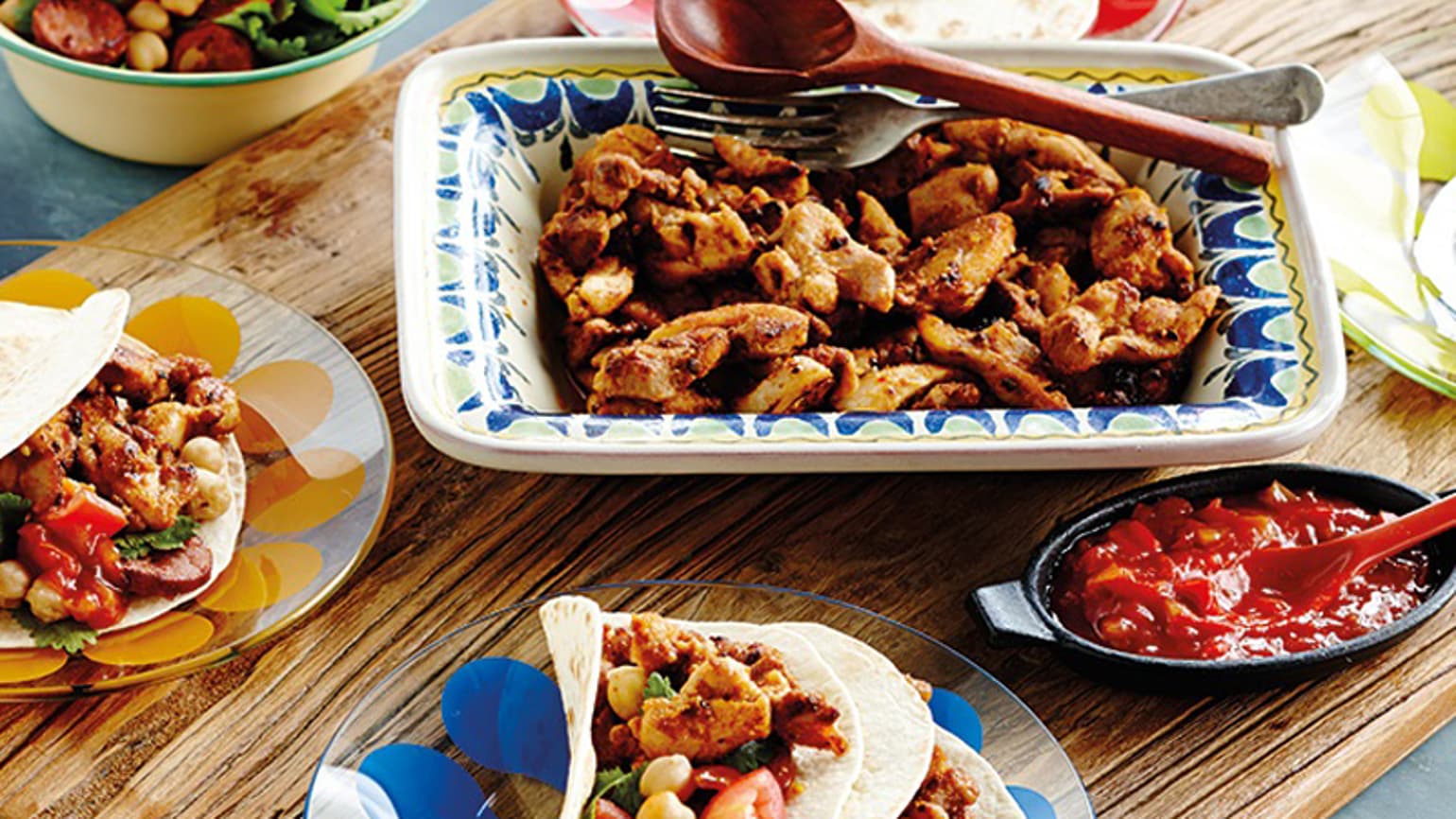 Chorizo Chicken Soft Tacos
This Mexican recipe from Old El Paso™ makes 10 Chicken Soft Tacos with Chorizo and Chickpea Salsa. Our Taco Spice Mix, Mini Tortillas and Taco sauce combined with other authentic Mexican ingredients like smoked paprika, coriander, lime and chickpeas makes a delicious Mexican lunch or dinner!
Ingredient List
650 g chicken thigh fillets sliced into thin strips
1 Old El Paso™ Taco Spice Mix
2 tablespoons olive oil
1 thinly sliced chorizo sausage
400 g drained can chick peas
1 punnet chopped cherry tomatoes
1 long red chilli with seeds removed and finely chopped
1 large washed and chopped handful coriander
1 tablespoon olive oil, extra
Juice of 1/2 a lemon or lime
1 teaspoon smoked paprika
1 Old El Paso™ Mini Tortillas (10pk)
1/2 cup Old El Paso™ Mild, Medium or Hot Taco Sauce
Sour cream and lime wedges to serve
Preparation
Toss chicken in Taco Spice Mix and olive oil. Heat a frying pan and cook chicken for 8-10 minutes or until golden brown. Place aside and keep warm.
Add chorizo to pan and cook until golden brown. Drain on absorbent paper.
Combine chick peas, chorizo, cherry tomatoes, chili, coriander, extra olive oil, lemon and smoked paprika to create a salsa.
For deliciously toasted Tortillas heat a non- stick frying pan over a medium heat and brown each tortilla for 10 seconds on one side only. Wrap in a tea towel until ready to serve.
Serve toasted Tortillas, chicken and chick pea salad, Taco Sauce, sour cream and lime wedges to the table and let everyone build their own Soft Tacos any way they like!