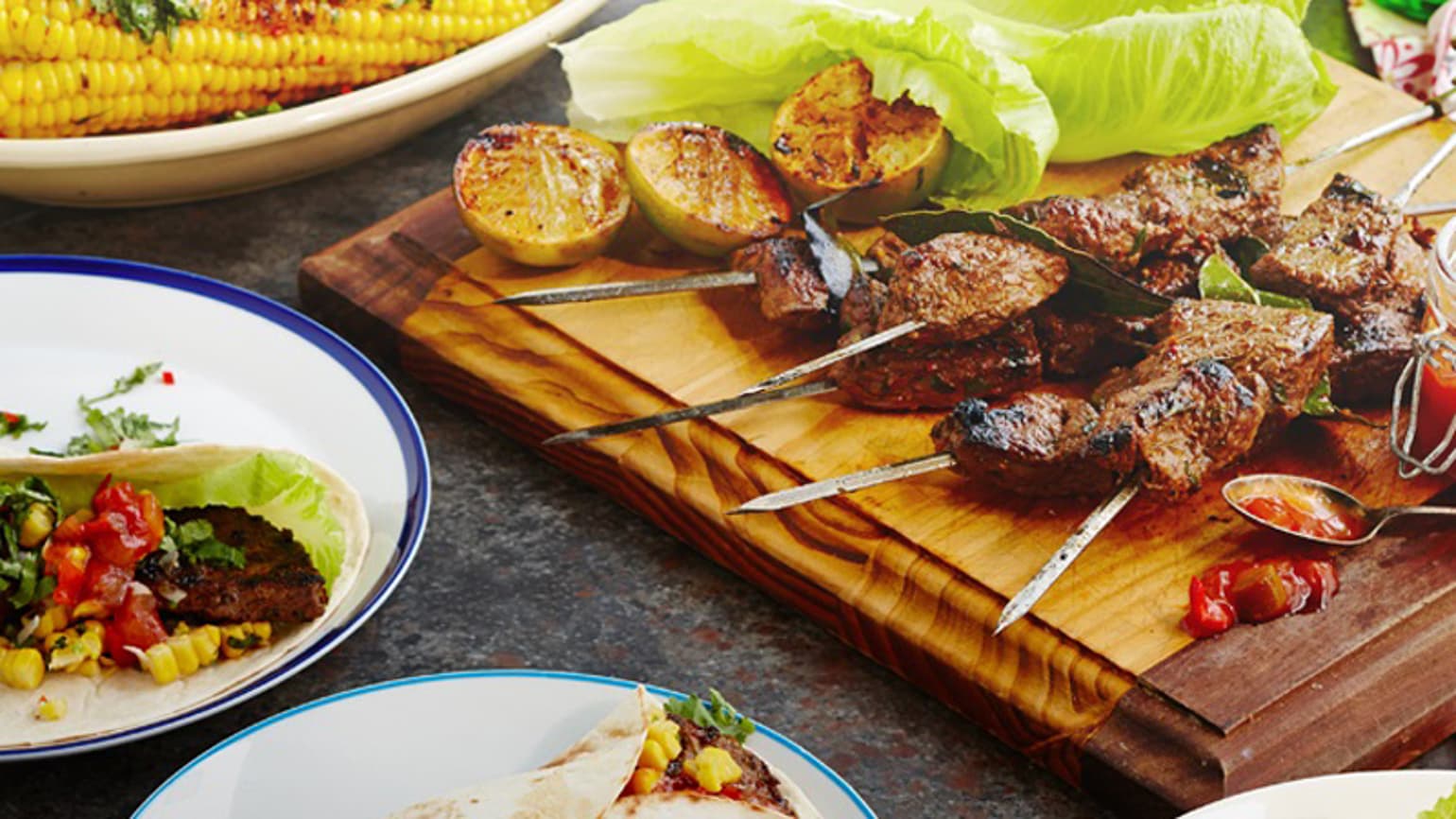 Marinated Beef Fajitas
This delicious recipe from Old El Paso™ makes 10 sizzling Fajitas. Tender beef is marinated with our Fajita Spice Mix, lime, Bay leaves and parsley then left to sizzle on the BBQ. Serve this Mexican meal with soft Tortillas, char grilled chilli corn, coriander and our Thick 'n Chunky Salsa and you're ready to enjoy a Mexican feast!
Ingredient List
1 kg beef rump cut into large 4cm cubes
1 Old El Paso™ Fajita Spice Mix
1 tablespoon chopped fresh oregano
1/2 cup chopped fresh parsley
Juice of half a lime
2 tablespoons olive oil
Fresh bay leaves for skewers
Old El Paso™ Tortilla (10pk)
50 g butter
1 finely chopped long red chilli
1/2 bunch finely chopped fresh coriander
Juice of half a lime, extra
1/2 cup finely grated Parmesan cheese
3 corn cobs
2 Baby Cos lettuce or rocket
1/2 cup Old El Paso™ Medium Thick n Chunky Salsa
Preparation
Combine beef, Fajita Spice Mix, oregano, parsley, lime juice and oil and toss to coat. Allow to marinate for I hour in refrigerator. Thread beef and bay leaves onto 10 metal skewers and cook on preheated barbecue for 6 minutes, turning frequently. Cover with foil and set aside to rest.
For authentic charred tortillas – open Tortilla pouch, discard Freshness Sachet and remove tortillas from pouch. Char on barbecue hot plate for 5 – 10 seconds on one side only or follow on pack instructions. Wrap in tea towel until ready to serve.
Combine butter, chili, coriander, lime juice in a dish. Cook corn in plenty of boiling water for 4 minutes. Drain. Toss corn in a little oil and char grill on barbecue for 10 minutes, turning frequently to ensure even charring. Place corn immediately into chilli butter mixture and toss to coat. Top with parmesan cheese.
Serve charred tortillas, beef skewers, char grilled chili corn, Cos lettuce and salsa. Build your own fajita any way you like!