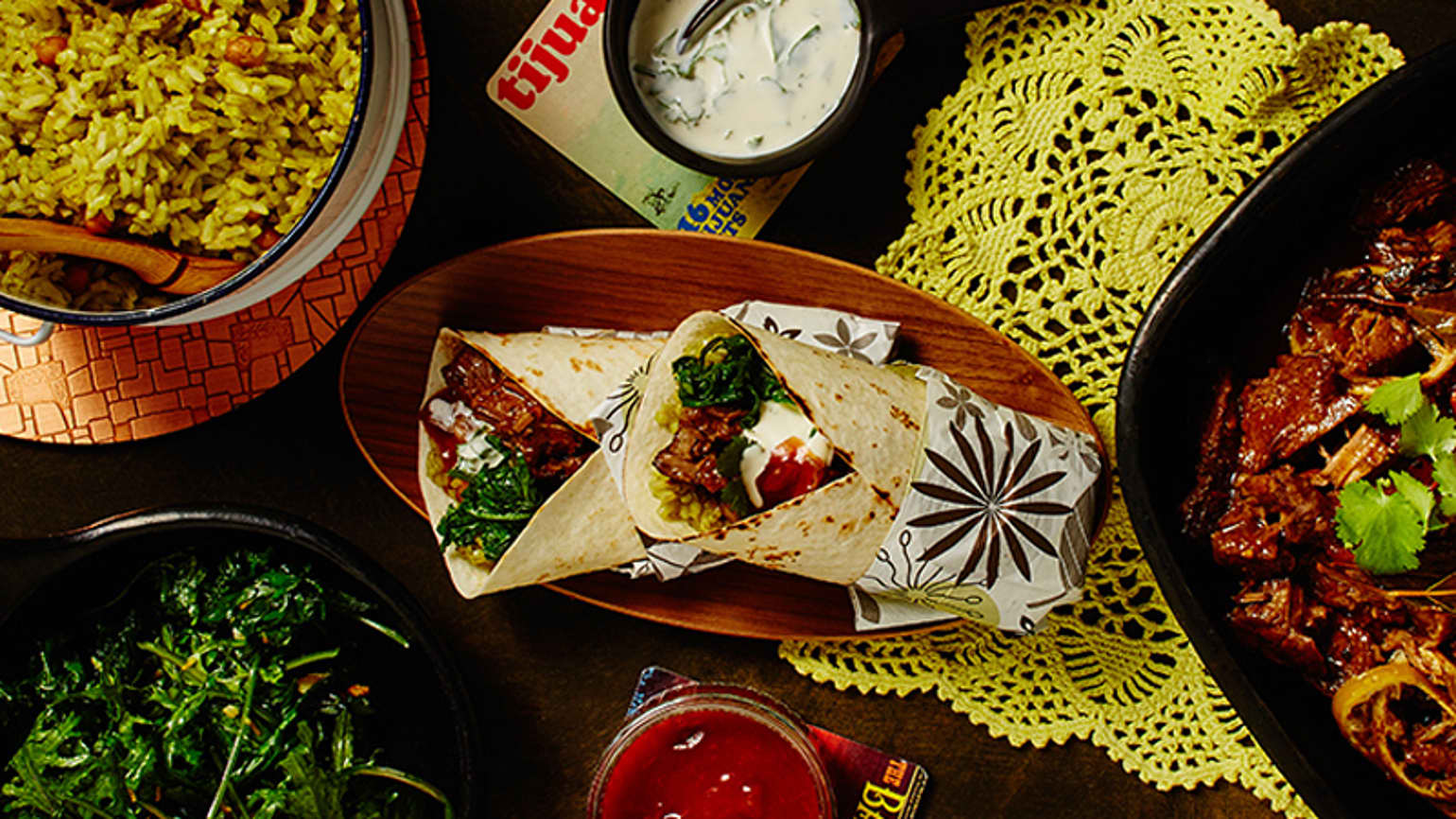 Slow Cooked Beef Burritos
Love burritos? Then you'll love this. With tender, slow cooked beef, our recipe makes 8 delicious burritos that will have your mouth watering.
Total Time
2 Hours
25 Minutes
Ingredient List
600g beef oyster blade steak
Old El Paso™ Burrito Kit
Olive oil
1 tablespoon apple cider vinegar
2 bay leaves
1 lime, sliced thinly
1 large tomato, sliced
Roasted Chickpeas
400g can chickpeas, drained and rinsed
1 tablespoon olive oil, extra
I clove garlic, crushed
1/2 teaspoon mild paprika
Mexican Green Rice – Arroz Verde
2 2/3 cups chicken stock
1 green jalapeno chili, seeds removed, roughly chopped
½ bunch coriander stems and leaves, roughly chopped
1 tablespoon olive oil, extra
1 white onion chopped finely
1 cup medium grain rice
4 cloves garlic finely chopped
Garlic Greens
Olive oil, extra
1 clove garlic, crushed, extra
100g fresh baby kale
Coriander Crema
250ml crème fraiche
Small handful chopped coriander
Preparation
Preheat oven to 180°C (160°C fan forced)
Coat steak in Burrito spice mix. Heat a little olive oil in an ovenproof pan over medium heat. Cook beef on both sides for 1 minute to seal in juices. Remove from heat. Add vinegar. Place bay leaves, lime and tomato slices on top of the beef and add enough water to allow approximately 1 cm liquid in the base of the pan. Cover with a layer of baking paper and the lid to minimise evaporation and cook in the oven for 2 hours. Remove from oven. Before serving, use 2 forks to pull the beef into bite sized chunks. Stir to coat with pan juices.
Toss chickpeas with olive oil, garlic and paprika. Place on an oven tray and roast for 30 minutes.
Cook chicken stock and jalapeno in a covered pan on low heat for 10 minutes. Cool slightly, add coriander and process in a blender. To create hot green stock, strain into a bowl and use a spatula to push some of the flavoursome green pulp through the strainer.
Heat oil in a medium size pan, cook onion and rice for 5 minutes, stirring. Add garlic, cook for an extra minute. Add hot green chicken stock and stir. Cover tightly with a lid and cook on low heat for 15 minutes. Remove from heat. Keep covered and stand for 10 minutes. Add chickpeas to rice and fluff rice with a fork.
Heat a little olive oil with the garlic in a frying pan, add kale and toss through to wilt slightly.
Stir coriander through crème fraiche.
For pan toasted Tortillas: heat a non-stick frying pan over a medium heat and brown each Tortilla for 10 seconds on one side only. Wrap in a tea towel until ready to serve.
Build your own burrito with tender chunks of slow cooked beef, green rice with roasted chickpeas, garlic kale, coriander crema and Mild Mexican Salsa.