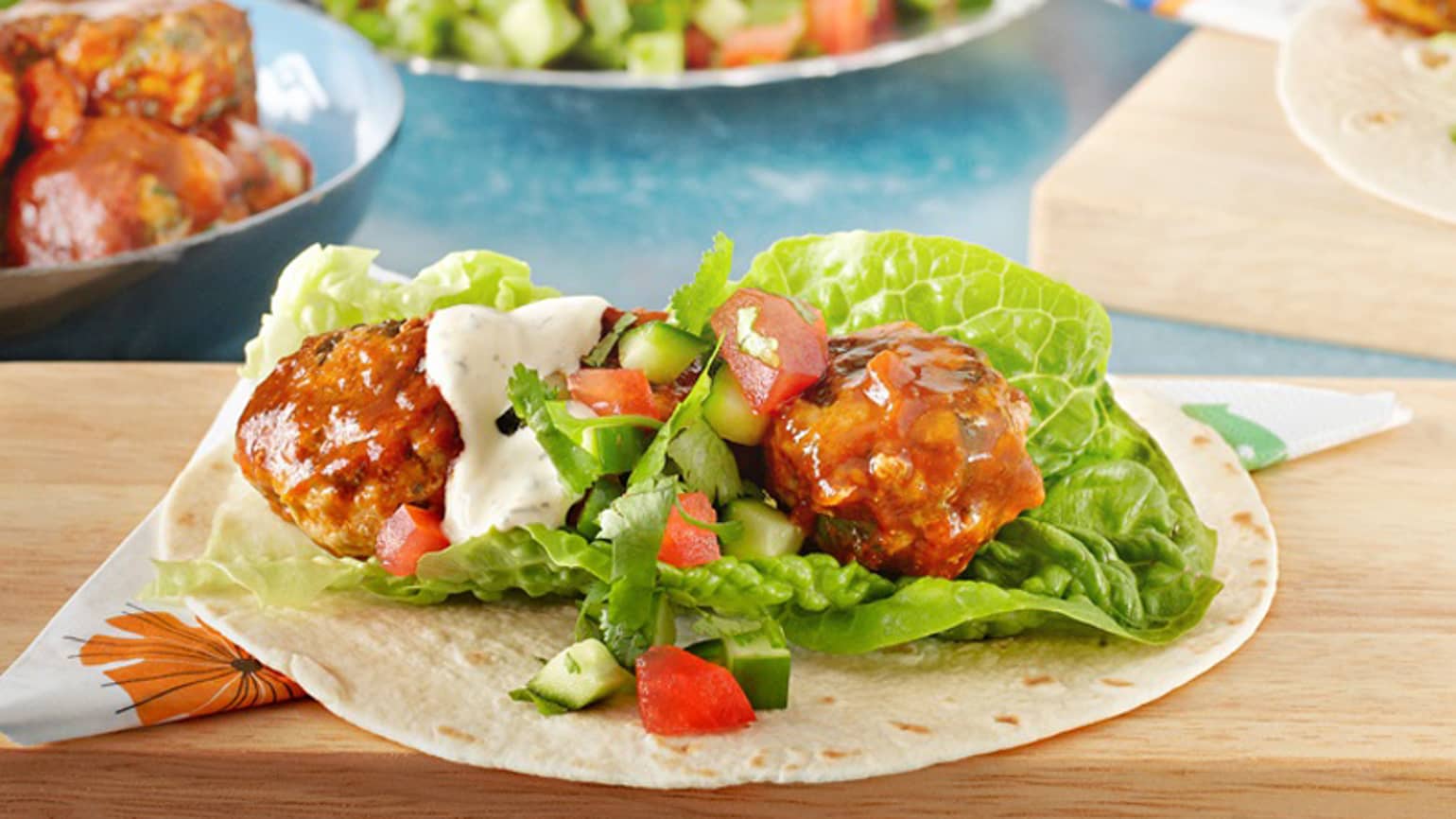 Meatballs and Salsa Soft Tacos
This Old El Paso™ recipe makes 10 Meatball and Salsa Soft Tacos. It's a twist on authentic Mexican albondigas using our Taco Spice Mix – just add fresh ingredients like zesty lemon, coriander, tomato, cucumber and lettuce. Perfect with either pork or beef mince - it's super tasty!
Ingredient List
Old El Paso™ Taco Spice Mix
1 cup tomato passata
500g pork or beef mince
1 egg
1/4 cup dry breadcrumbs
1 teaspoon finely grated lemon zest
1 cup finely chopped fresh coriander
Olive oil
1 cup finely chopped fresh coriander, extra
1 large tomato, finely chopped
1 cucumber, finely chopped
2/3 cup light sour cream
zest and juice of 1/2 a lime
Old El Paso™ Mini Tortillas
Baby cos lettuce leaves
Preparation
In a small bowl, blend Taco Spice mix and passata together. In a large bowl, combine pork mince, egg, breadcrumbs, lemon zest and coriander. Roll tablespoonfuls into small balls (makes approx. 30). Heat a little oil in a frying pan & cook over medium high heat for 5 – 6 minutes until browned and cooked through. Add taco spice and passata mixture and simmer for 2 minutes.
Combine extra coriander, tomato and cucumber to make a fresh salsa.
Mix sour cream and lime zest and juice until well combined.
For warm Soft Tacos, open Soft Taco pouch, discard Freshness Sachet. Microwave Soft Tacos in pouch on HIGH/1100 watts/100% power for 40 seconds* or remove from pouch, wrap in foil and heat in oven at 180ºC conventional (160°C fan forced) for 10 minutes.
*Times may vary depending on microwave wattage. Decrease time for fewer Tortillas. Increase time when using a microwave oven lower than 1100 watts.
Build your own Soft Tacos with lettuce leaves, meatballs, lime sour cream & fresh tomato salsa.