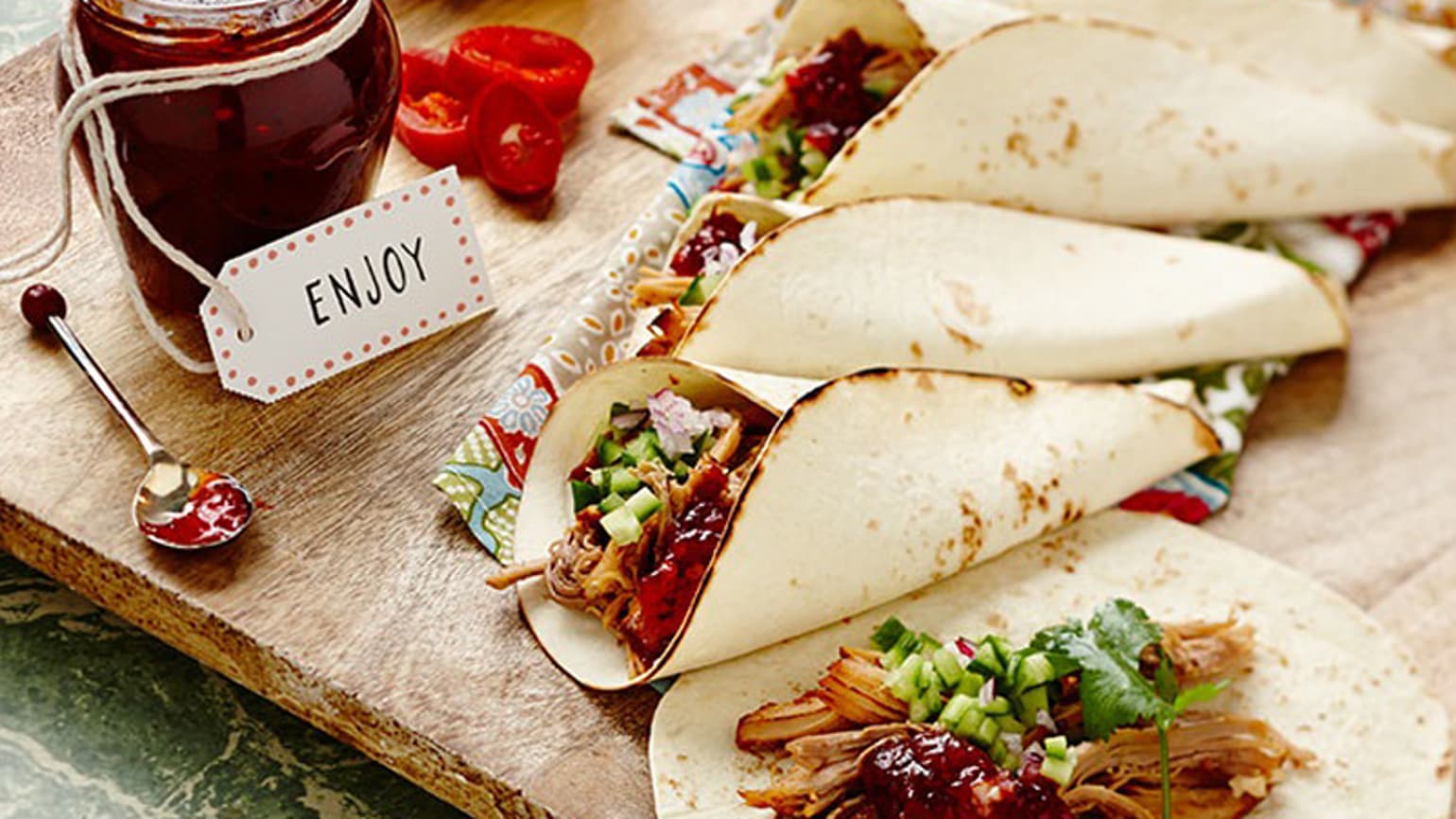 Mexican Pork Sliders
This Old El Paso™ recipe makes about 1 cup of Chili Jam so there is more than enough to enjoy with these delicious Mexican Style Pork Sliders AND have some leftover to enjoy with your other favourite Mexican recipes! It does take a little bit of time so we suggest you make your Chili Jam ahead of time to enjoy with your slow cooked Pork Sliders.
Ingredient List
Old El Paso™ Chili Spice Mix
1 teaspoon smoked paprika
1 tablespoon brown sugar
1 tablespoon olive oil
1 – 1.2kg piece pork shoulder, rind removed
1 medium red onion, roughly chopped,
1 cup (250ml) pineapple or apple juice
1 bay leaf
1 lime, sliced
1/2 bunch coriander, for garnish
Chili Jam
1 medium red capsicum, halved
2 large cloves garlic, unpeeled
1 large ripe tomato, roughly chopped
200g red chilies, seeded and finely chopped
1/4 cup lime juice
1/2 teaspoon sea salt
1 cup (220g) caster sugar
To serve
Old El Paso™ Mini Tortillas 10pk
1 green oak leaf lettuce, washed, to serve
1 cucumber, cut into thin strips, to serve
2/3 cup light sour cream, to serve
Preparation
Combine Chili Spice Mix, smoked paprika and brown sugar, roll pork in spice mix to coat. Heat oil in a heavy based casserole dish. Add pork and brown all over for 5 minutes.
Add onion and cook, stirring for 2 minutes or until softened. Add the juice, bay leaf and lime slices. Season with salt & pepper. Return pork to pan and cover casserole with a sheet of baking paper and the casserole lid to seal in the juices. Cook in oven at 160◦C conventional (140˚C fan forced) for 3 hours until pork is tender.
Remove pork and shred with two forks. Place casserole over high heat and boil for 1 minute to reduce pan juices slightly. Return pork to pan juices and garnish with coriander leaves.
For the Chili Jam: Place capsicums and garlic in a frying pan and cook over a medium heat until the skins blacken. Peel garlic and place in food processor with capsicums, tomatoes and chilies and process until a bright red sauce forms.
Pour the sauce into a large saucepan. Add lime juice, salt and bring to the boil over high heat. Reduce heat to low and simmer, uncovered, for 5 minutes. Remove pan from heat.
Add sugar stirring over a medium heat for 1 min or until sugar dissolves. Bring to the boil and boil for a further 4 - 5 minutes or until mixture thickens slightly.
Ladle hot Chili Jam into serving bowl or jar and set aside to cool. Ladle the remaining Chili Jam (this recipe makes about 1 cup) into warm sterilised jars and seal with a lid. Set aside to cool. Label and date the jars and store in a cool dark place. Refrigerate after opening.
For pan toasted Tortillas: heat a non- stick frying pan over a medium heat and brown each Tortilla for 10 seconds on one side only. Wrap in a tea towel until ready to serve.
To serve: Build your own Mexican style pork sliders with toasted tortillas, pork, Red Jalapeno Jam, lettuce, cucumber and sour cream.