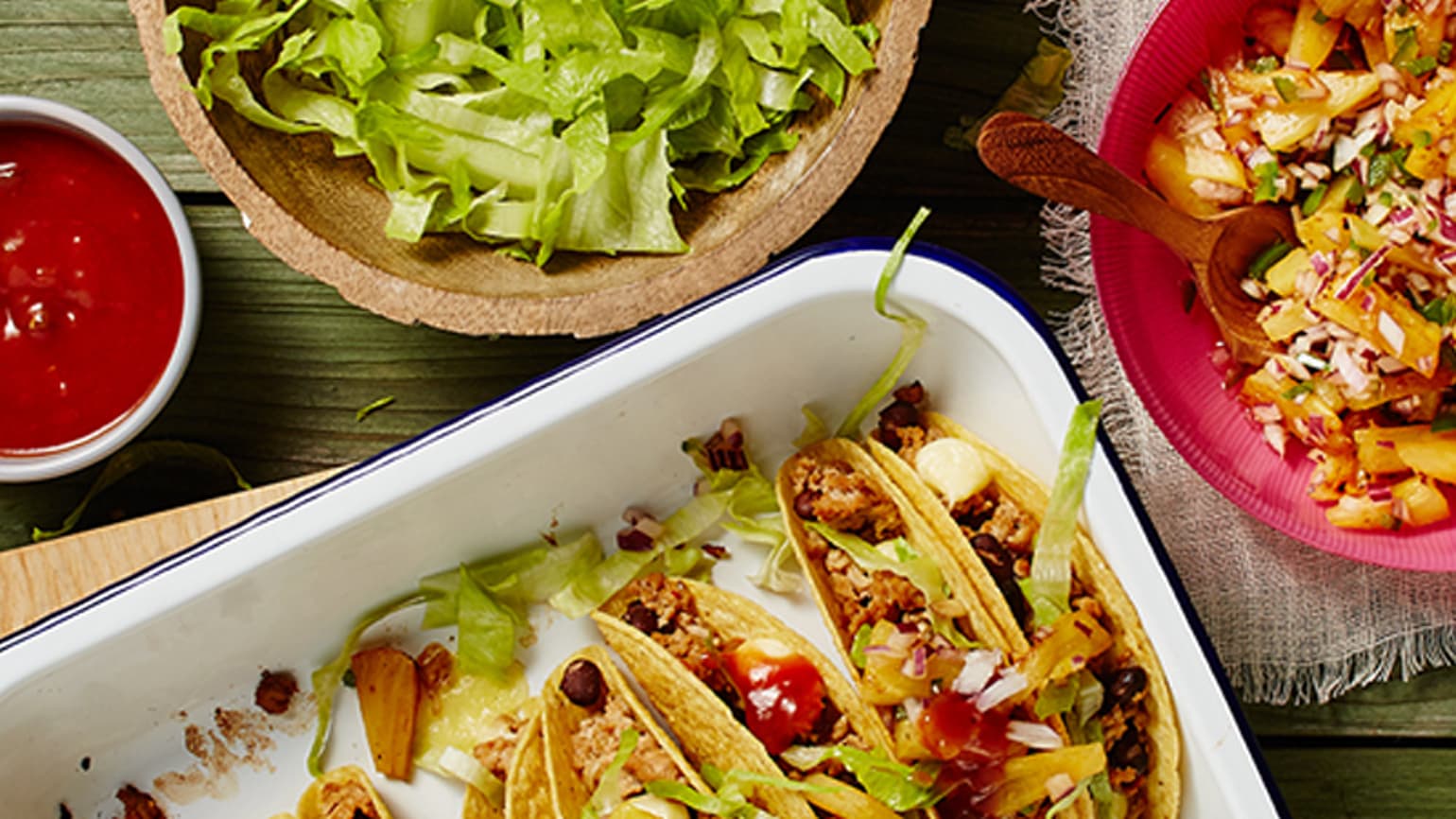 Pork Tacos With Bocconcini
Make it your way using our Old El Paso™ Black Beans and Taco Shell Kit. These pork tacos serve 6 and are baked whilst filled to help lock in flavour. Enjoy the classic taste sensation of pork and pineapple, brought to life with lime, jalapeño chili and bocconcini.
Ingredient List
Pineapple salsa
1/2 pineapple peeled and sliced
1 small red onion, finely chopped
1 jalepeno chilli, seeded and finely chopped
Juice of 1/2 a lime
1 tablespoon olive oil
1 small onion, finely chopped
500g pork mince
425 g can Old El Paso™ Black Beans, drained & rinsed
1 Old El Paso™ Taco Shell Kit
220g tub baby bocconcini, torn in half
Preparation
Pre heat oven to 180ᵒC (160ᵒC fan forced). Heat a medium frying pan over high heat, fry off pineapple allowing the fruit to caramelise before turning, remove from pan and cut into bite size pieces. Toss pineapple with onion, chilli and lime juice in a serving bowl.
Add oil to the frying pan and onion, cook over medium heat for 3 minutes or until onion softens. Add pork mince, breaking up lumps with a wooden spoon, cook for 5 minutes. Add beans, taco seasoning and ½ cup of water. Simmer for 2 minutes or until sauce thickens. Remove from heat and stir through bocconcini cheese.
Fill tacos with the mince mixture and place in a baking dish, bake for 15 -20 minutes or until heated through and cheese is melted.
Serve pork and bean tacos straight from the oven with shredded lettuce, taco sauce and pineapple salsa.