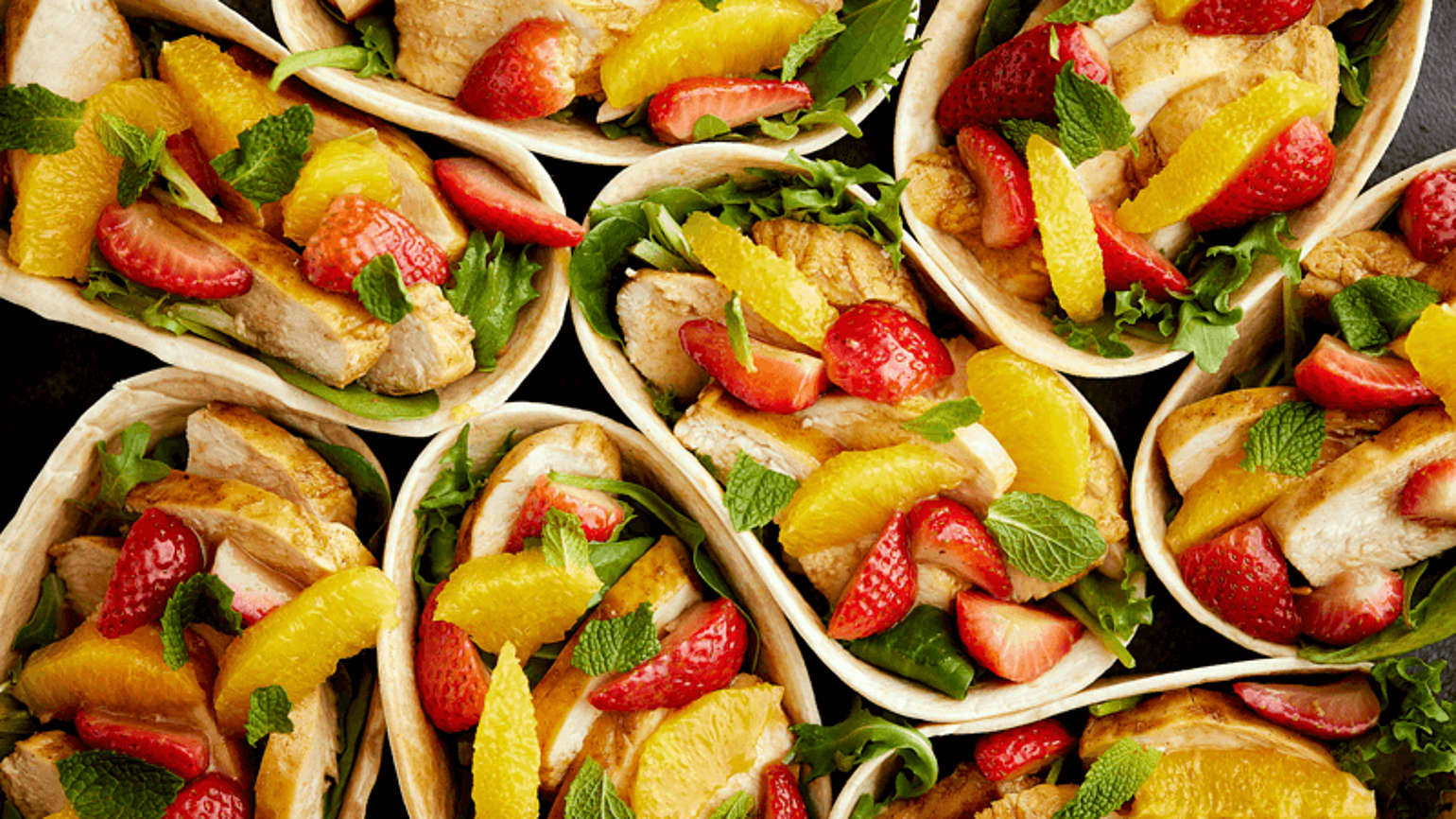 Pan-Fried Strawberry and Orange Sangria Chicken Taco Boats
Take your dining to the next level with this sweet and savoury combo of spiced pan-fried chicken with a fruity sangria-style sauce.
Ingredient List
2 1/2 tablespoons olive oil
1 sachet Old El Paso™ Extra Mild Super Tasty Taco Spice Mix
4 chicken breast fillets (600g)
3 tablespoons orange liqueur or fresh orange juice
150ml white wine
1 tablespoon white wine vinegar
200g strawberries, hulled and quartered
1 pack Old El Paso™ Stand 'N' Stuff Tortilla Boats (8 tortillas)
85g mixed salad leaves (see Tips)
1 orange, peeled and segmented
Fresh mint leaves, to garnish
Preparation
Mix 2 tablespoons of the oil with the seasoning in a shallow dish. Add the chicken and turn to coat.
Heat the rest of the oil in a large non-stick frying pan over a medium-high heat. Add the chicken and cook for 2-3 minutes on each side until seared. Reduce the heat to low and cook for a further 20-25 minutes, turning occasionally until the chicken is cooked through with a golden-brown glaze (see Tips). Transfer to a chopping board, cover and leave to rest for 10 minutes.
Return the pan to a high heat and when the pan juices are sizzling pour in the orange liqueur (or juice). Cook for 1 minute, stirring to scrape any sediment from the base of the pan. Add the wine and vinegar and boil the mixture for 3-4 minutes. Stir in the strawberries and let the mixture bubble, for a further 1 minute until the strawberries are softened and the sauce has thickened slightly.
Heat the tortillas to pack instructions. Thinly slice the chicken.
Divide the salad leaves between the tortillas and top with the sliced chicken. Spoon over the sangria sauce, scatter over the orange segments and serve immediately garnished with mint leaves.
Expert Tips
Choose a peppery mix of salad leaves with rocket, baby spinach and Asian greens to compliment the sweet wine sauce.
You'll need a heavy-based non-stick frying pan to cook the chicken. The cooking time will vary depending on the thickness of the fillets, and you'll need to turn them frequently to ensure even cooking.