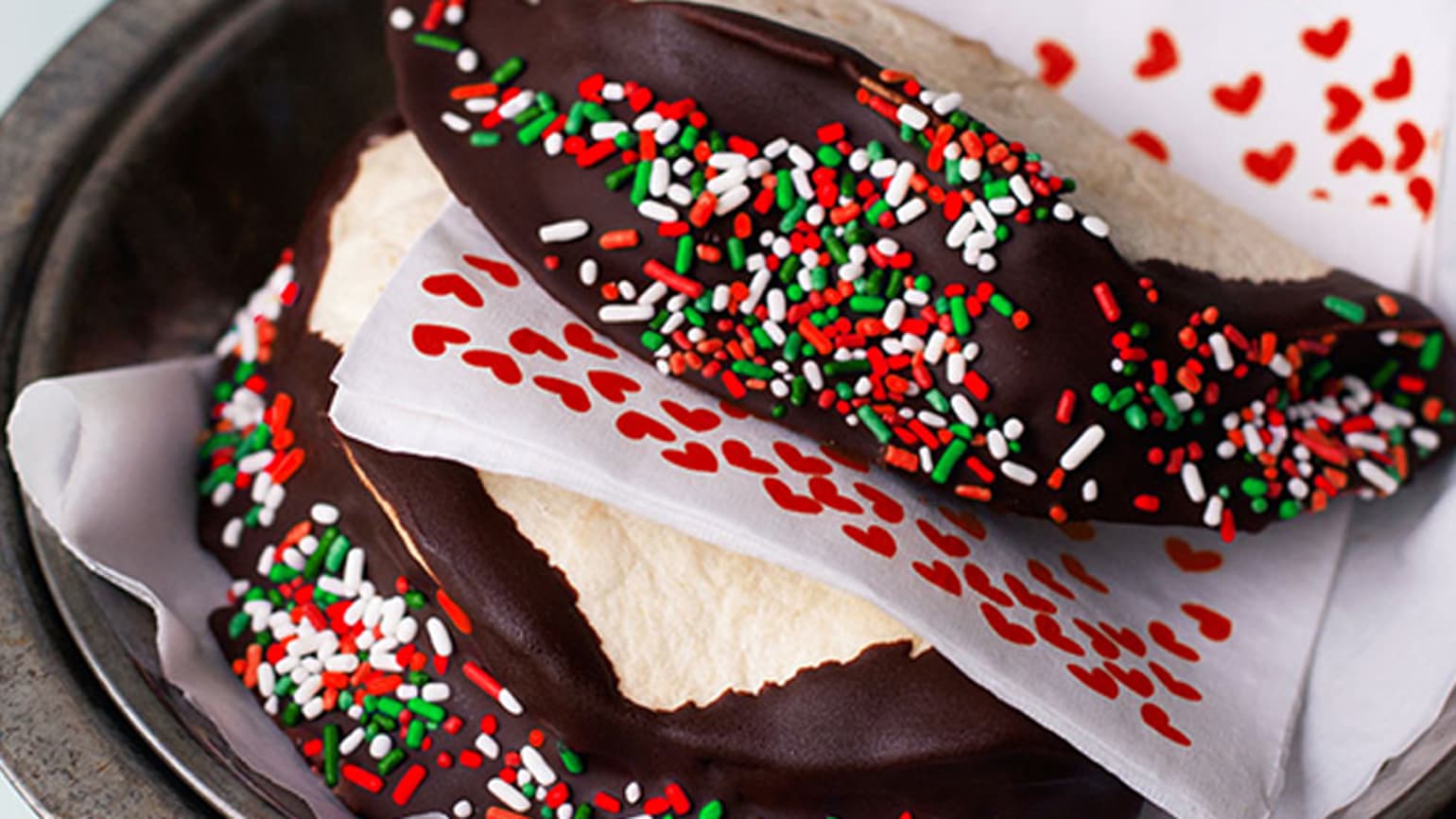 Santa's Ice Cream Tacos
No, you are not dreaming, Chocolate Ice Cream Tacos do exist and we've got an incredible recipe for them! With only a few ingredients, you'll be able to whip these delicious treats up in no time at all. Our recipe makes 10 – so you can share…. Or not!
Ingredient List
10 Old El Paso™ mini tortillas
400g dark chocolate chopped
3 teaspoons vegetable oil
2L vanilla ice cream
Sprinkles, as desired
Preparation
Heat oven to 160°C conventional. Place tortillas side by side over the bars of the oven rack, ensuring sides hang down evenly. Heat for 8 – 10 minutes or until crisp and lightly browned. Allow to cool and remove from rack.
Place chocolate and oil in a heat-resistant bowl over a saucepan of gently simmering water. Stir for 3 – 5 minutes or until melted.
Brush melted chocolate mixture on inside of each shell to coat. Place on a baking paper lined oven tray and freeze for 10 to 15 minutes or until chocolate is set. Reserve remaining chocolate.
Remove ice-cream from freezer for 5 – 10 minutes to allow to soften slightly. Fill each shell to the edges with ice cream, being careful not to break the shell. Place the ice cream-filled tacos back on the tray in the freezer for 1 hour or until ice cream is very firm.
Reheat reserved chocolate. Remove ice cream tacos from freezer. Working quickly, dip each taco into the chocolate coating, being sure to seal in the ice cream completely, and add sprinkles. Return to lined tray, and freeze for another 2 hours or until firm before serving.