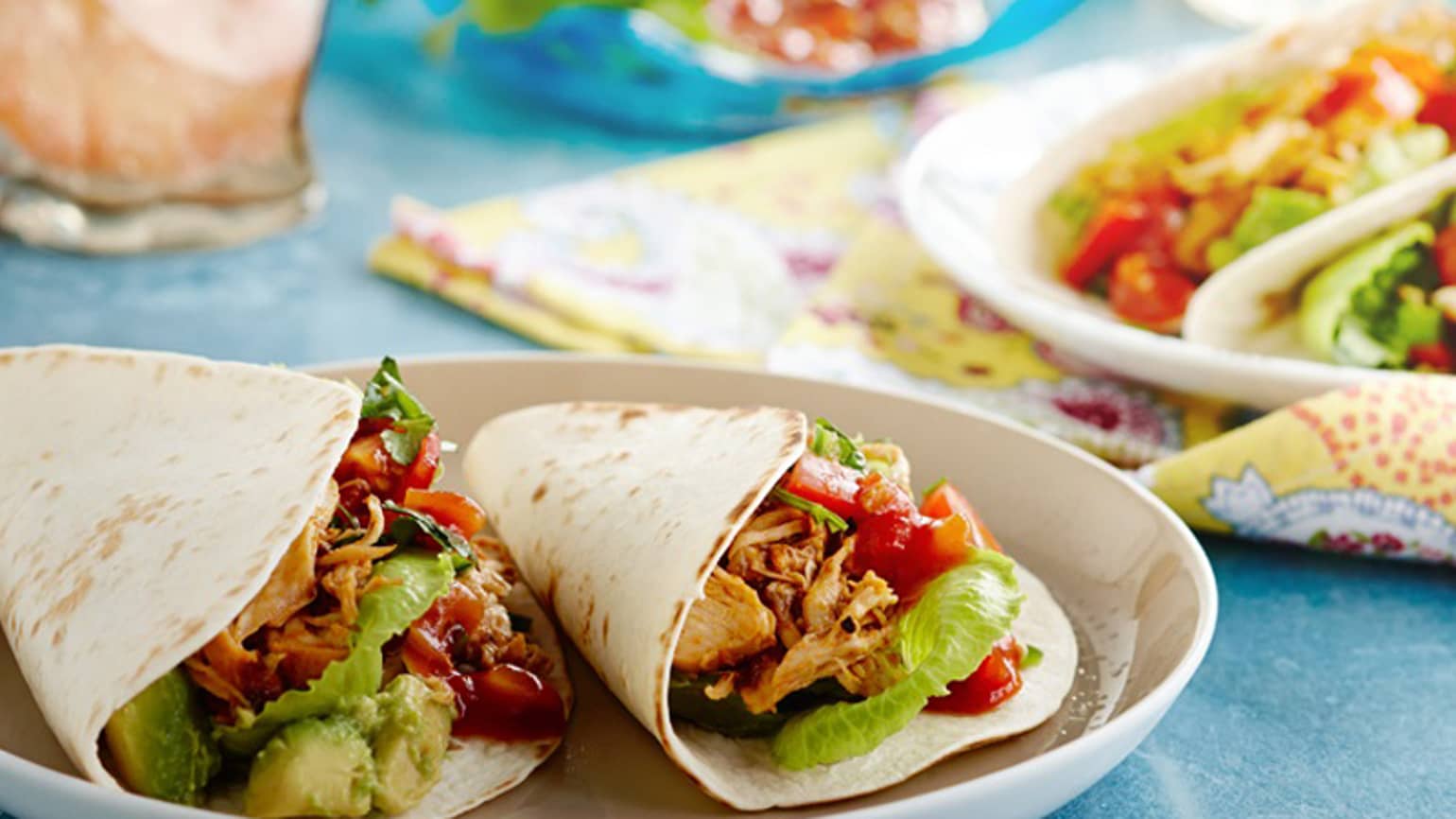 Shredded Chicken Tacos
This Old El Paso™ recipe makes 10 Shredded Chicken Soft Tacos with fresh tomato salsa. The meal uses our Taco Spice Mix, soft Tortillas and Taco Sauce. This meal has all the delicious Mexican flavour of traditional Soft Tacos but with a twist – swap mince for shredded chicken! Just add fresh ingredients like grape tomatoes, coriander, jalapeño chilli and mashed avocado.
Ingredient List
1 kg chicken thigh fillets trimmed of fat
1 Old El Paso™ Taco Spice Mix
Juice of 2 oranges
3/4 cup water
1 Old El Paso™ Mini Tortillas (10pk)
2 roughly chopped and mashed avocados
1/2 cup Old El Paso™ Mild, Medium or Hot Taco Sauce
Fresh Tomato Salsa
1 punnet grape tomatoes quartered
1 fresh jalapeño chilli with seeds removed and finely chopped
Small handful of washed and chopped coriander
Juice of a lime
Preparation
Toss chicken thighs in Taco Spice Mix to coat. Heat a little olive oil in a medium sized saucepan (the saucepan should be large enough to allow the chicken fillets to cover base in a single layer). Cook chicken for 3 minutes, each side or until golden brown. Add orange juice and water, simmer gently, covered (lid or foil) for 45 minutes or until very tender. Allow to cool for 5 minutes in poaching liquid before removing and shredding with 2 forks.
Combine tomatoes, jalapeño, coriander and lime juice to create a fresh salsa. For delicious pan toasted tortillas, heat a non- stick frying pan over a medium heat and brown each tortilla for 10 seconds on one side only. Wrap in a tea towel until ready to serve.
Build your own Soft Taco any way you like with toasted tortillas, mashed avocado, shredded chicken, fresh tomato salsa and Taco Sauce.