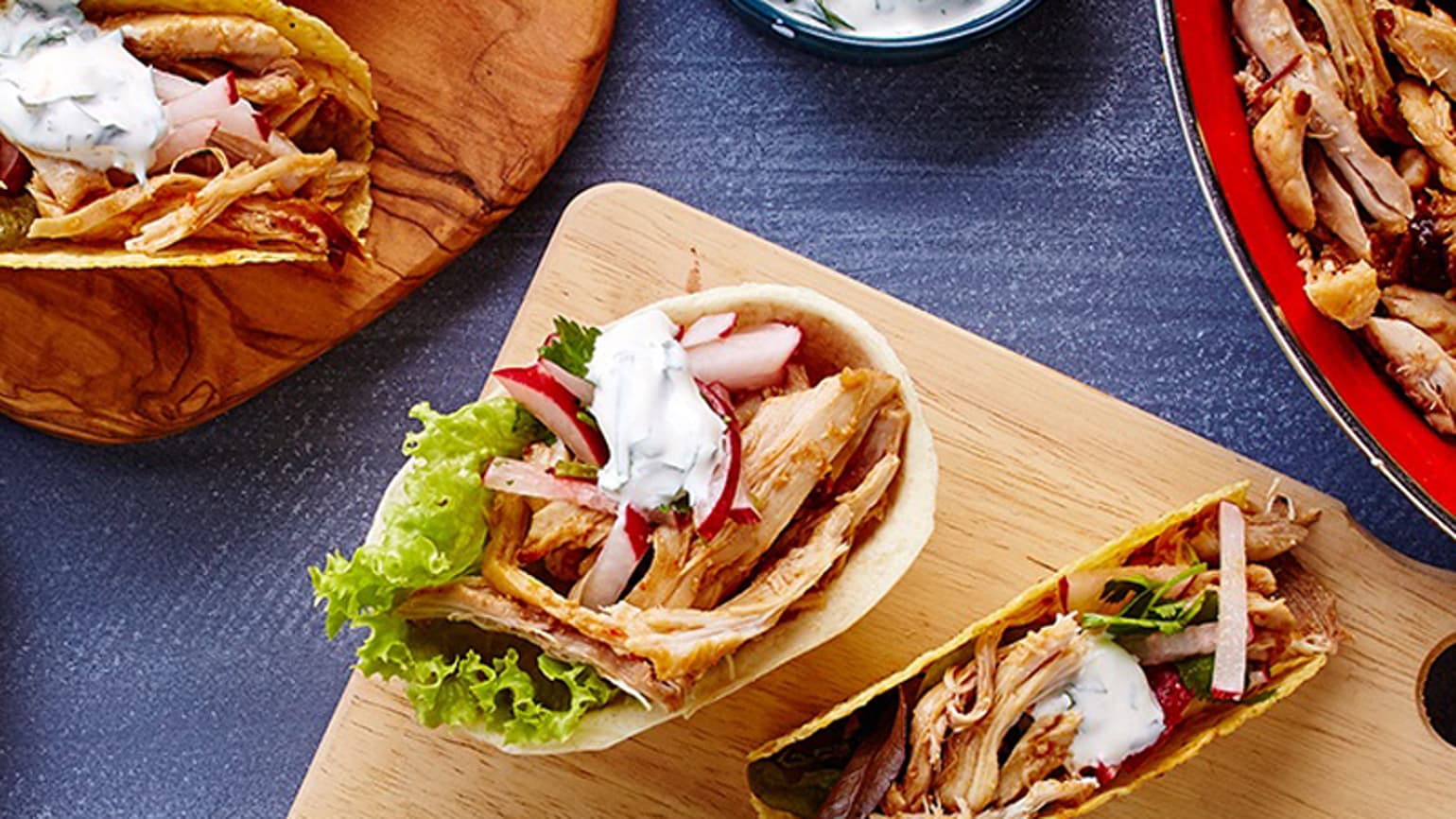 Shredded Chipotle Chicken Tacos
Create amazing shredded chicken tacos in a breeze with Old El Paso™ Stand 'N Stuff™. Fresh tortillas, flavorsome radish salsa and tasty chipotle shredded chicken!
Ingredient List
1kg skinless chicken thigh fillets
2 tablespoons canned chipotle chiles in adobo sauce, finely chopped
2 tablespoons honey
1 clove garlic, finely chopped
1/2 teaspoon salt
2 tablespoons olive oil
1 1/2 cups water
1/2 cup low fat sour cream
1 tablespoon chopped coriander
1 bunch radishes, finely slice into matchsticks
1/2 bunch coriander, chopped extra
Old El Paso™ Stand 'N Stuff™ Mini Taco Kits
Old El Paso™ Stand 'N Stuff™ Mini Original Tortillas
2 limes, cut into wedges
Preparation
In a Medium Sized Saucepan place chicken, chiles in adobo, honey, garlic, salt, olive oil and water. Cook over medium heat until boiling, then reduce heat to low, cover and cook for 45 minutes or until chicken is tender.
Shred chicken using 2 forks, then return to low heat, uncovered for a further 5 minutes or until sauce is thick enough to coat chicken.
To Create Radish Salsa create radish salsa, combine radish and extra coriander. In a separate bowl, combine sour cream and coriander.
For Crunch Mini Taco Shells and warm soft tortillas, heat according to pack directions.
Fill mini tacos and tortillas with Chipotle chicken, radish salsa, coriander sour cream and lime wedges.