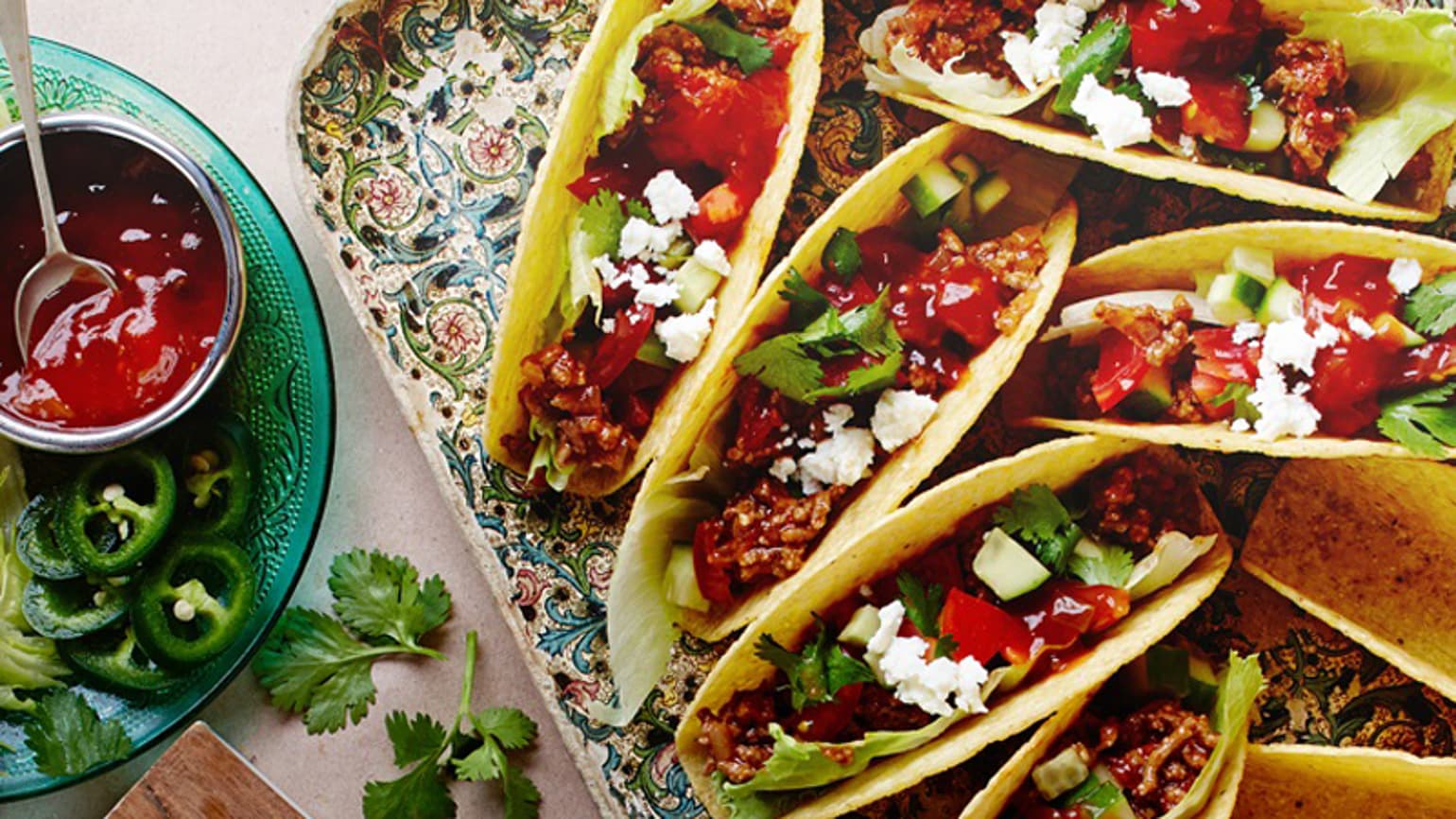 Chilli Beef Tacos
This Old El Paso™ recipe makes 10 Chili Beef Tacos with Fresh Tomato Salsa. Create this delicious meal using our Stand 'n Stuff™ Taco Shells, Chili Spice Mix and Taco Sauce. Just add fresh ingredients like lean beef mince, tomatoes, jalapeño chili, fresh coriander and this Mexican meal is sure to please at lunch or dinner!
Ingredient List
1 Old El Paso™ Stand 'n Stuff™ Taco Shells (10pk)
1 diced medium brown onion
600 g lean beef mince
1 Old El Paso™ Chili Spice Mix
400 g can tomatoes
3/4 cup water
3/4 shredded Iceberg lettuce
1 sliced Jalapeño chili
1/2 cup Old El Paso™ Mild, Medium or Hot Taco Sauce
Grated Tasty or Feta cheese to serve
Fresh Tomato Salsa
2 finely chopped large tomatoes
1 finely diced small red onion
1 finely diced small cucumber
Large handful of washed and chopped fresh coriander
Juice of a lime halve
Preparation
Heat a little oil in a frying pan, add onion and cook over a medium heat for 5 minutes or until soft. Add beef mince and Chilli Spice Mix, cook for 5 minutes, stirring with a wooden spoon to break up lumps. Add canned tomatoes and water. Simmer for 5 minutes or until sauce thickens.
For deliciously crunchy Taco shells, follow on pack instructions.
To create a Fresh Tomato Salsa simply combine tomatoes, red onion, cucumber, coriander and lime juice.
Serve crunchy Taco shells, chili beef, fresh tomato salsa, Taco Sauce and other fillings to the table and everyone can build their own taco any way they like!