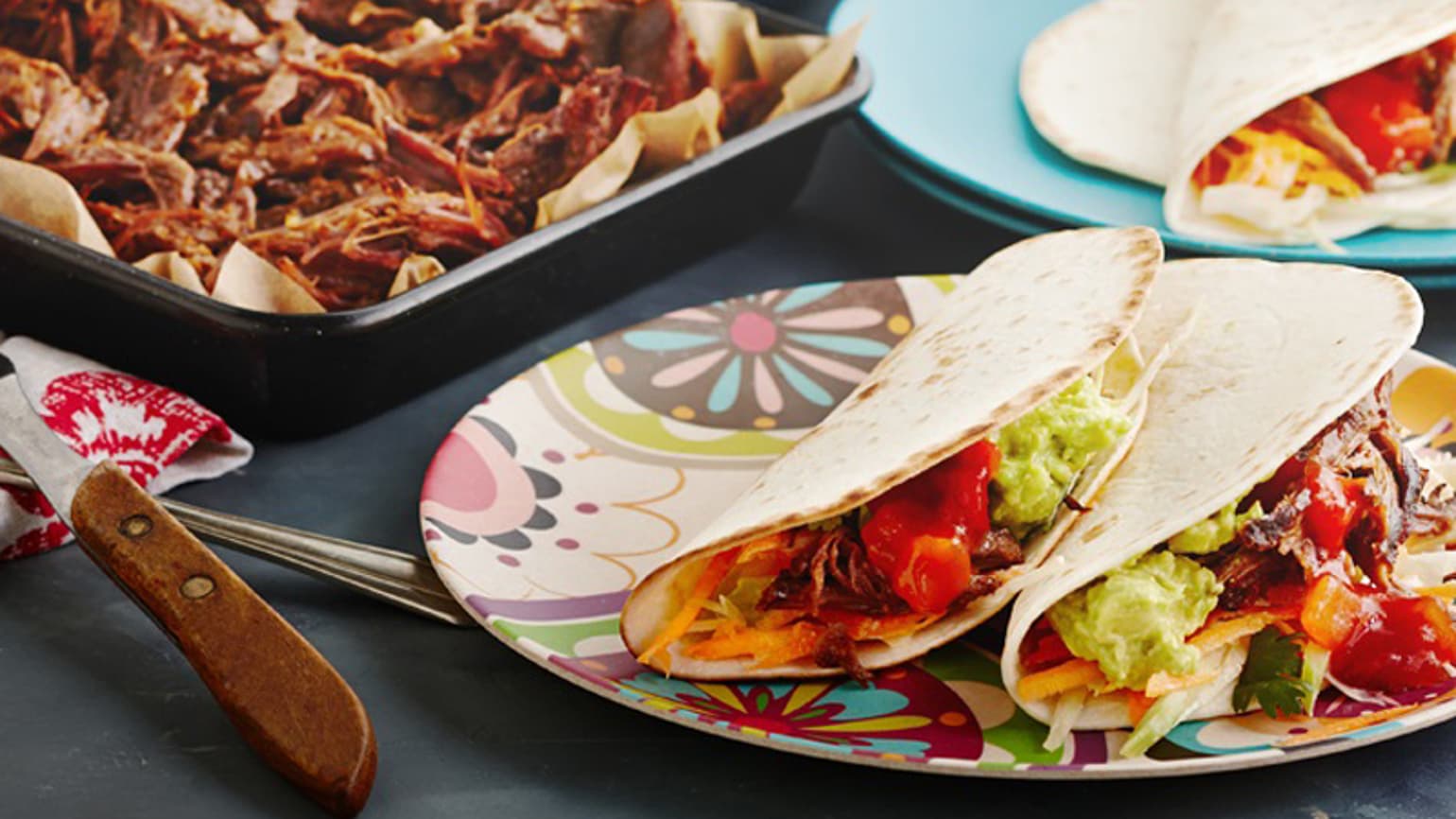 Slow Cooked Beef Tacos
This Old El Paso™ recipe makes 10 Slow Cooked Shredded Beef Soft Tacos. Using our Taco Spice Mix, Mini Tortillas and Taco Sauce you can create this authentic Mexican meal at home! Just add fresh ingredients!
Total Time
2 Hours
55 Minutes
Ingredient List
1.4 kg chuck on the bone
1 Old El Paso™ Taco Spice Mix
1 cup pineapple juice
1/4 cup water
Olive oil
150 g coleslaw mix
Small handful of coriander leaves
2 tablespoons light sour cream
Juice of a lemon
1 avocado with stone removed
1 Old El Paso™ Mini Tortillas (10pk)
1 Old El Paso™ Mild, Medium or Hot Taco Sauce
Preparation
Heat oven to 150°C conventional (130°C fan forced). Combine beef and Taco Spice Mix and toss to coat.
Heat a little oil in a heavy based oven proof casserole dish and brown beef on all sides. Remove pan from heat. Add pineapple juice and water, cover casserole tightly with a layer of baking paper, foil and lid. Slow cook in oven for 3 – 3 ½ hours or until very tender.
Remove meat from pan. Heat pan juices on stove top until slightly reduced. Shred meat with 2 forks and add back to pan juices.
Combine coleslaw mix, coriander, sour cream and lemon juice and toss to combine.
For delicious pan toasted tortillas, heat a non- stick frying pan over a medium heat and brown each tortilla for 10 seconds on one side only. Wrap in a tea towel until ready to serve.
Build your Soft Tacos anyway you like with toasted tortillas, shredded beef, avocado, coleslaw and Taco Sauce.