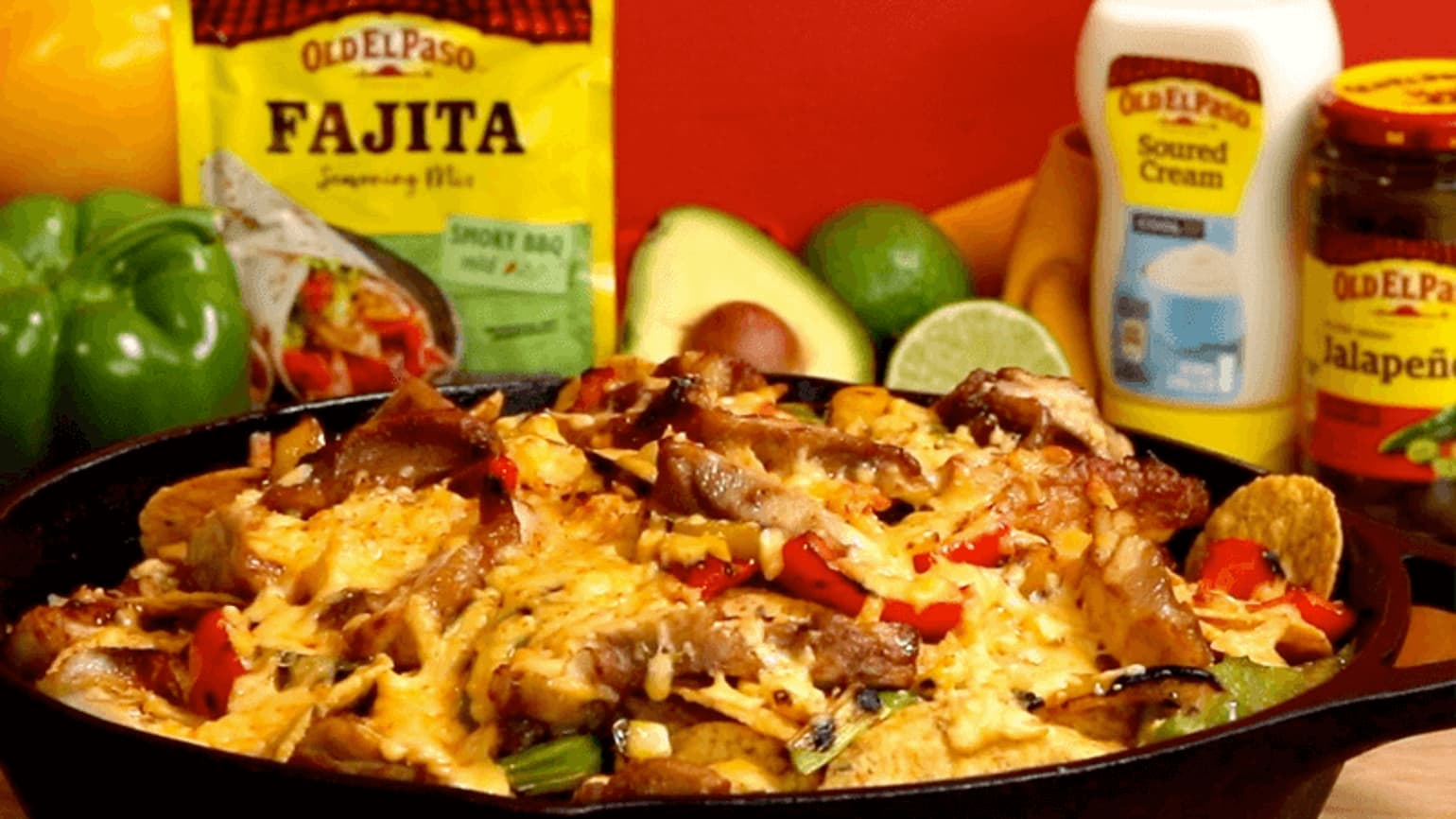 Smoky BBQ Chicken Nachos
Nothing better than a plate of delicious nachos to share around the table this summer! Try our delicious smoky BBQ chicken nachos recipe and dig into a plate full of jam-packed flavour with our crunchy chips, oozing with melty cheese and dressed with your favourite toppings.
Ingredient List
4 boneless skin-on chicken thighs
1 sachet Old El Paso™ Mexi Pulled Meat Spice Mix
1 tbsp olive oil
2 corn on the cob
1 bunch of spring onions (at least 6)
3 mixed capsicums, sliced
1 avocado, de-stoned, skinned and chopped
Juice of 1 lime
150g Sour Cream
1 large spoonful Pickled Jalapenos - more or less depending on your preference!
Salt & black pepper, to season
2 x bags Chips
200g mild cheddar
Coriander leaves
Pickled Jalapenos
Preparation
Preheat the BBQ grill to medium.
Place the chicken thighs in a bowl and sprinkle with the Old El Paso™ Mexi Pulled Meat Spice Mix and drizzle with the olive oil. Make sure they are covered thoroughly before placing skin side up on the oiled BBQ grill. Use indirect grilling to cook the thighs through, turning over halfway to crisp up the skin. Set aside and slice into strips.
Grill the corn on the cob, spring onions and capsicums until nicely charred in spots and cooked through. When cool enough to handle, remove the kernels from the sweetcorn with a sharp knife and set aside with the capsicums slices. Cut half the spring onions into bite-size chunks.
Take the other 3 spring onions and add to a blender. Blitz for a few pulses and then add the avocado, sour cream and Old El Paso™ Green Jalapenos. Blitz until smooth, season to taste and set aside.
Find a medium-sized skillet and arrange a bed of chips. Top with the sliced chicken, capsicums, and spring onion pieces.
Sprinkle with cheddar and place in the BBQ with the lid on to melt the cheese.
Serve with the avocado crema, coriander and Old El Paso™ Green Jalapenos.