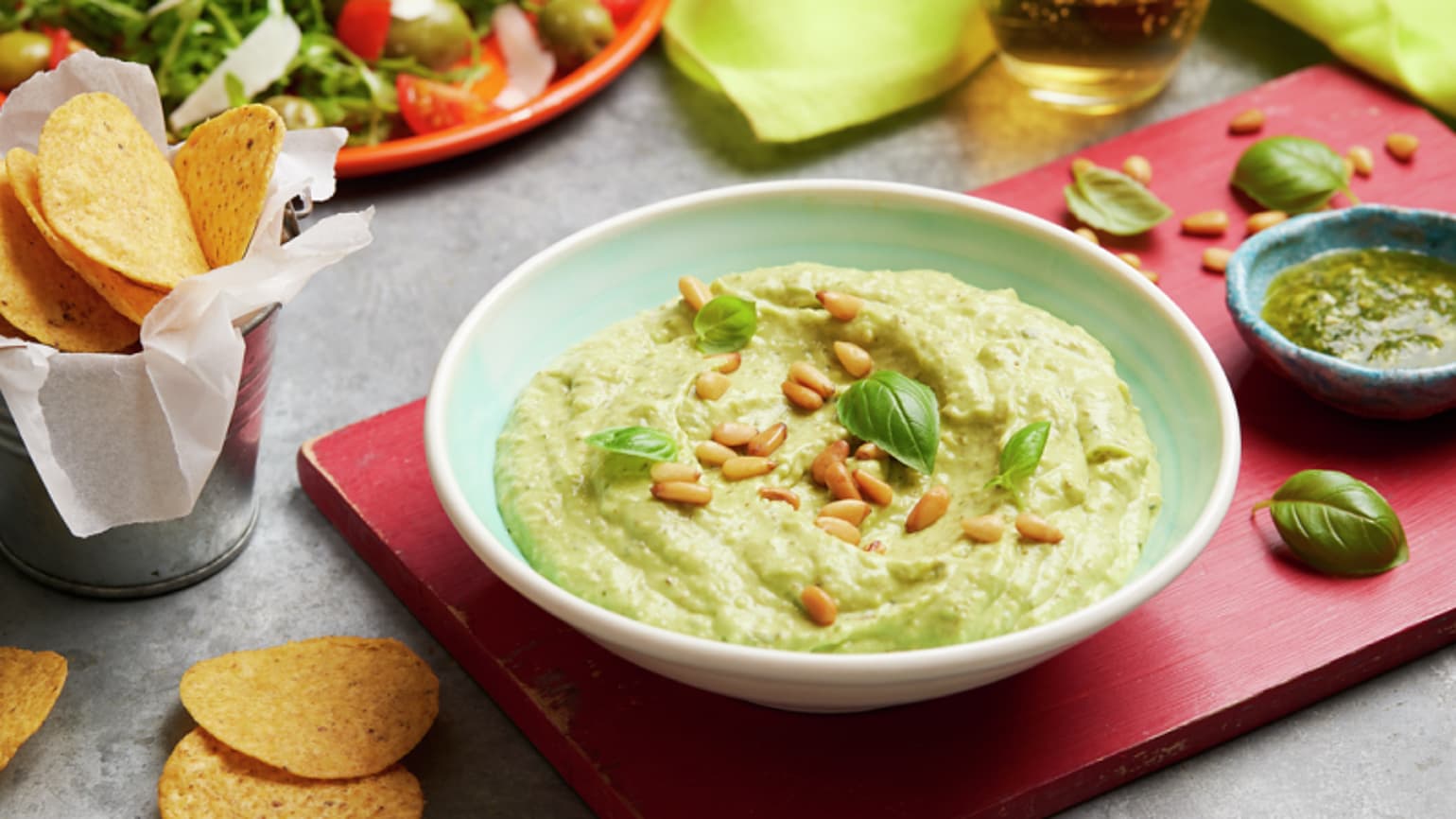 Smooth Pesto Guacamole
Embrace the flavours of Italy with this smooth pesto guacamole, combined with silky crème fraîche.
Total Time
1 Hours
20 Minutes
Ingredient List
3 ripe avocados, peeled, stones removed and flesh chopped
3 tablespoons lemon juice
100g pesto sauce, fresh or from a jar
80g crème fraîche
1 1/2 teaspoons pine nuts, lightly toasted
Few fresh basil leaves, to garnish
Preparation
Place the avocado, lemon juice, pesto sauce and crème fraiche in a food processor and pulse until very smooth, scraping down the sides of the bowl as needed. Transfer to a serving bowl and season with salt and freshly ground black pepper, if you like.
Cover the surface closely with cling film and refrigerate for 1 hour to allow the flavours to blend. Scatter over the pine nuts, garnish with the basil leaves and serve.
Expert Tips
Swap the basil pesto for sun-dried tomato, red pepper or chilli pesto, if you like.
For an extra vibrant colour and even more flavour, stir in a handful of shredded fresh basil leaves just before serving.
Don't just dip! Spread this ultra smooth guac onto slices of toasted or char-grilled sourdough bread. Top with roasted cherry tomatoes and Parmesan cheese shavings.
Cooking Vegetarian? Always read labels to make sure each recipe ingredient is vegetarian. Products and ingredient sources can change.