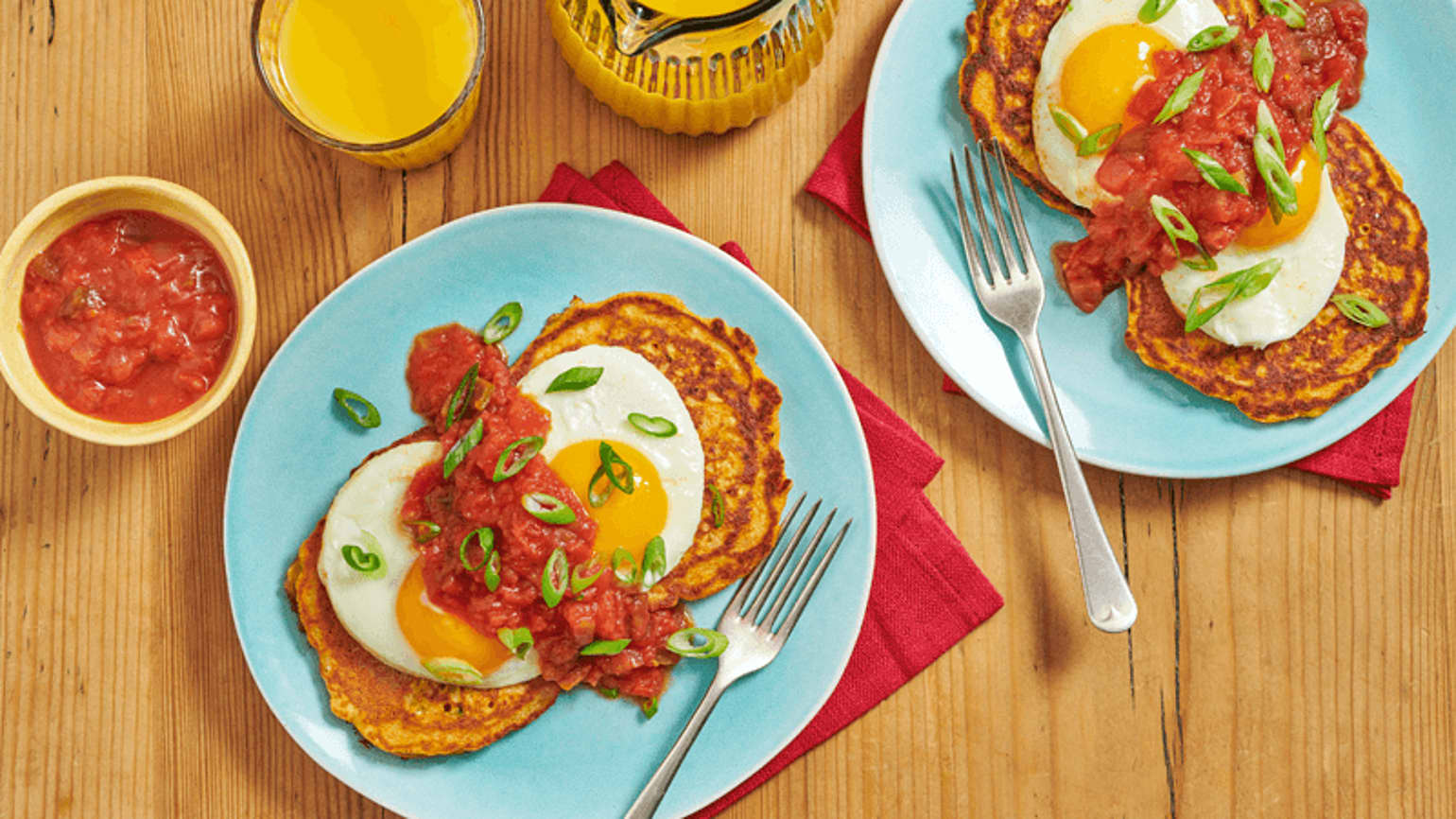 Spring Onion and Corn Pancakes with Fried Eggs
A little bit savoury, a little bit sweet and 100% nice to eat! Up your vegetarian game with these easy spring onion and corn blender pancakes for a fun spin on the traditional.
Ingredient List
Pancakes
1 x 198g tin corn kernels, drained
4 spring onions, whites and greens separated, greens thinly sliced
1 egg
125g plain flour
1 tablespoon organic caster sugar
1 tablespoon baking powder
1 tablespoon Old El Paso™ Extra Mild Super Tasty Taco Spice Mix
175mL milk
Vegetable oil, for brushing
Eggs
To serve
<1 x 226g jar Old El Paso™ Mild Thick & Chunky Salsa
Preparation
Preheat the oven to 120°C (100°C for fan assisted ovens), gas mark 1/2. Line a large baking tray with foil. Place all the pancake ingredients (except the spring onion greens) in a blender, and blend for 30-60 seconds, until smooth.
Heat a smooth (not ridged) griddle plate or pan or a large heavy-based frying pan over a medium heat. To test griddle or pan, sprinkle with a few drops of water. If bubbles jump around the heat is just right. Brush with a little vegetable oil if necessary (see Tips).
For each pancake, pour about 55mL of the batter onto the hot griddle or pan (cooking two at a time). Cook for 2-3 minutes or until bubbly on top and dry around the edges. Flip each pancake over and cook the other side until golden brown. Transfer to the baking tray. Place in oven to keep warm while you cook the rest of the mixture to make 8 pancakes in total.
To cook the eggs, melt the butter in a large frying pan over a medium-high heat. Break 1 egg into a small cup. Carefully slide the egg into the pan. Repeat with the remaining eggs. Reduce the heat to medium. Cook uncovered for 7-8 minutes, frequently spooning the butter from the pan over the eggs, until the whites and yolks are firm, not runny.
Transfer the pancakes to warmed plates and top with the eggs and salsa. Serve garnished with the spring onion greens.
Expert Tips
Serve with a dollop of Soured Cream mixed with some freshly chopped coriander and a squeeze of lime juice, if you like.
Cracking the eggs into cups before transferring to the pan may seem tedious, but it lets you catch stray eggshells and broken yolks before cooking them.
You may not need to brush your griddle or pan with vegetable oil. But if you find the first pancakes stick a little then just lightly brush the hot griddle or pan with a thin layer of oil.
Cooking Vegetarian? Always read labels to make sure each recipe ingredient is vegetarian. Products and ingredient sources can change.