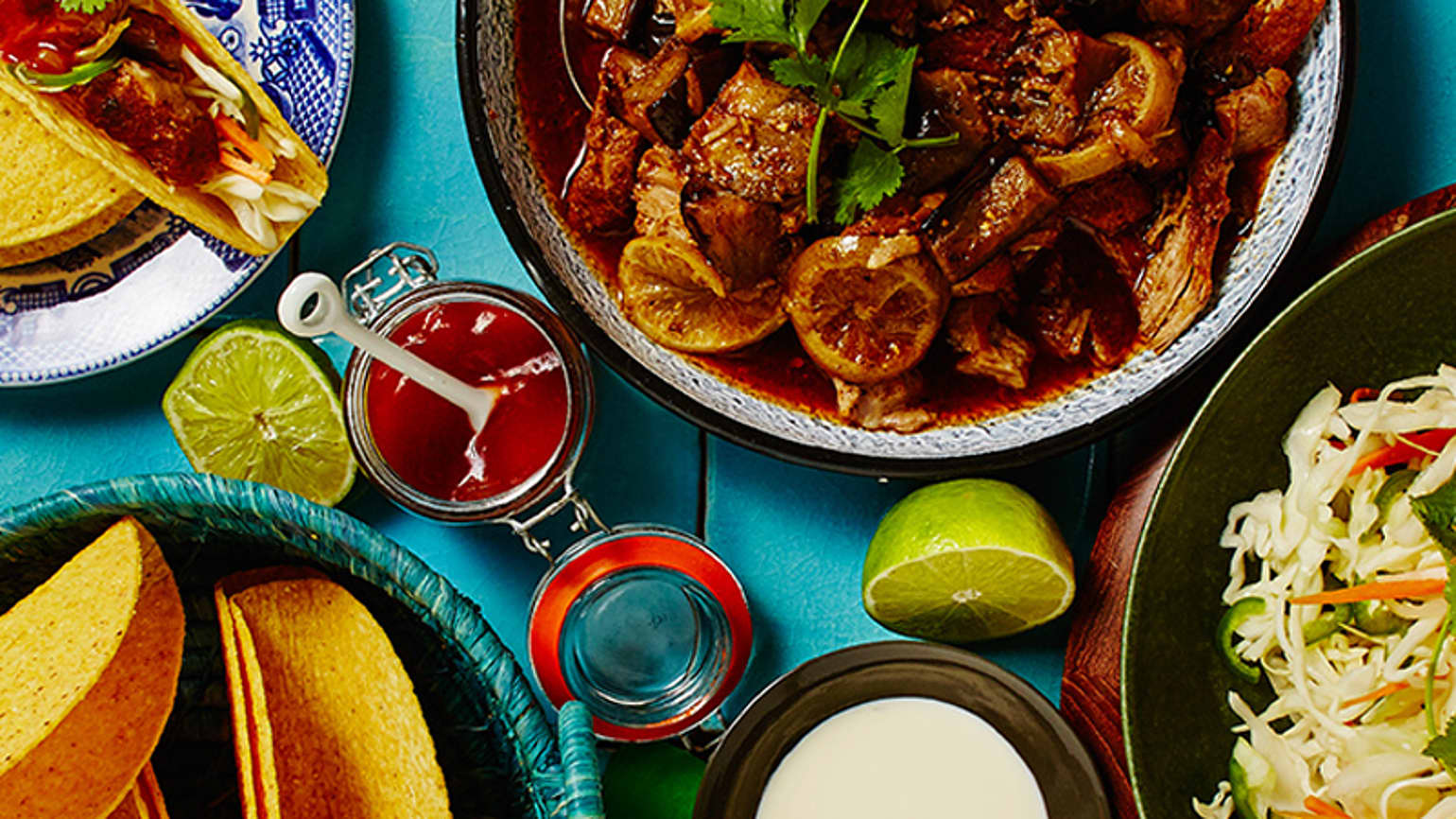 Stand 'N Stuff™ Pork Tacos
There are 8 slow cooked pork crunchy tacos with your name on them this way! With a little help for Old El Paso™, these could be the main event at your dining table tonight. See the recipe for details.
Total Time
2 Hours
25 Minutes
Ingredient List
600g pork Scotch fillet steaks
1 medium eggplant, cut into large cubes
Old El Paso™ Stand 'N Stuff™ Taco Kit
Olive oil
1 tablespoon apple cider vinegar
1 lime, sliced thinly
2 bay leaves
Curtido – Pickled cabbage salad
1 carrot,sliced finely into julienne strips
1/4 cabbage, sliced finely
1 small white onion, sliced finely
1 green jalapeno chili, halved, seeded and thinly sliced
3 tablespoons apple cider vinegar
2 teaspoons brown sugar
1 teaspoon salt flakes
Light sour cream
Juice of 1/2 a lime
Preparation
Preheat oven to 180°C (160°C fan forced)
Toss pork and eggplant with taco spice mix. Heat a little oil in an oven proof pan on the stovetop and brown pork and eggplant. Remove pan from heat. Add apple cider vinegar, lime slices, bay leaves and enough water to allow approximately 1 cm liquid in the base of the pan. Cover with baking paper and the lid to minimise evaporation and cook in the oven for 2 hours. Remove from oven. Just before serving, use two forks to pull pork into bite sized chunks and stir to coat in pan juices.
To make a quick pickled curtido, mix carrot, cabbage, onion and chili together. Using a small saucepan, heat vinegar, sugar and salt until sugar dissolves. Pour over vegetables. Cover and allow to stand for an hour to develop flavour.
Stir light sour cream and lime juice together.
For deliciously crunchy taco shells, follow pack instructions.
Serve crunchy tacos with tender pork and eggplant, crunchy curtido, lime crema and mild taco sauce.
Expert Tips
Curtido is a pickled or fermented salad made from cabbage, and can include carrots, beetroot, onions, chillies and spices. The traditional version is made by salting the vegetables and allowing to stand at room temperature, covered by the released juices for 3 days. The quick versions use vinegar or citrus juice and can be ready in an hour. Curtidos can keep for weeks in a jar in the fridge, providing the vegetables are covered by the liquid. They have similarities to kimchi or coleslaw and provide a great flavour and textural contrast to the hearty richness of this delicious pork dish.