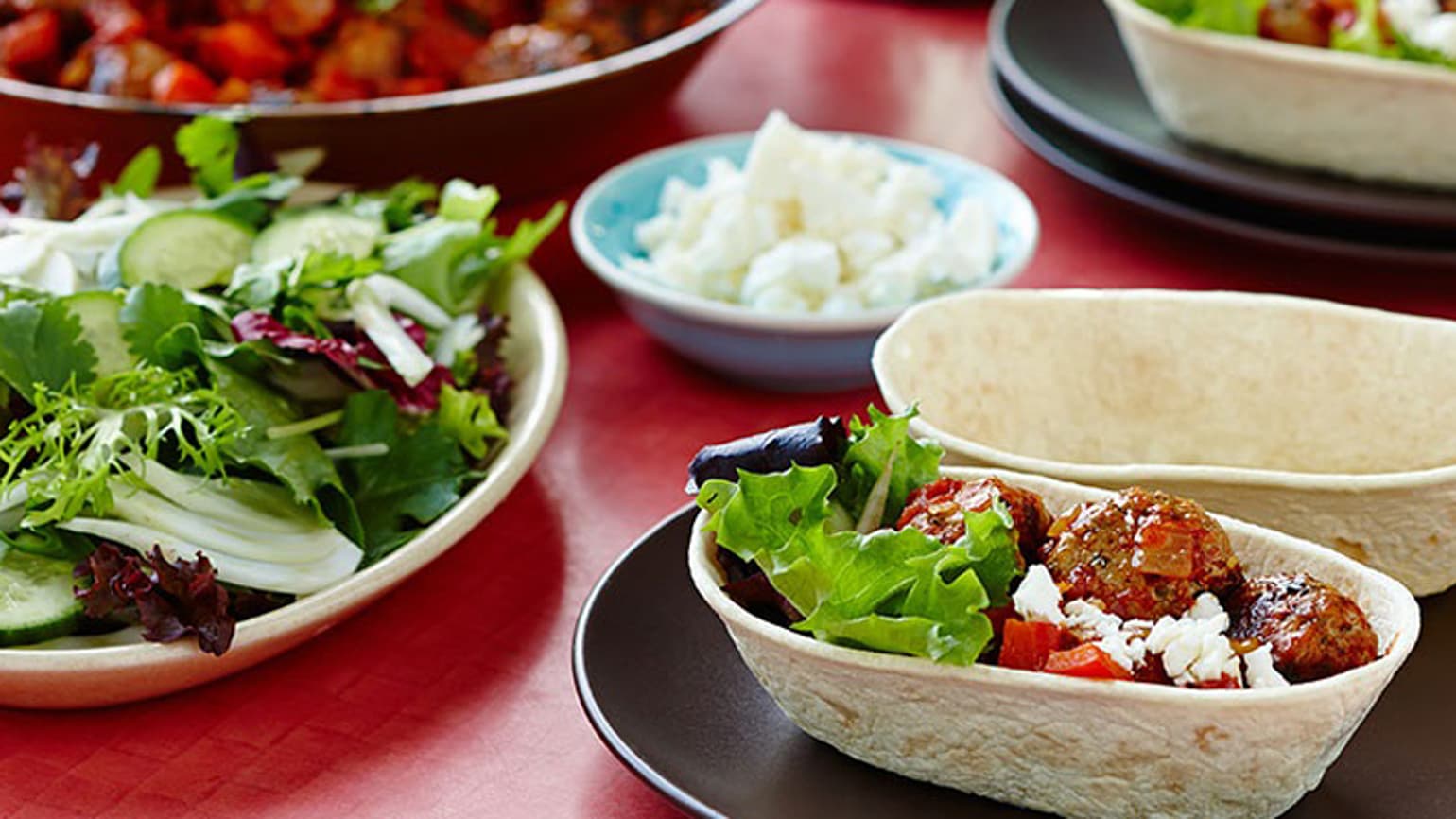 Stand 'N Stuff™ Pork Meatballs
Nothing beats getting together for some seriously satisfying pork Soft Tacos. The unique flat bottom means these soft tortillas stand up on your plate – they're so easy to fill everyone can do it! And what could be more fun than filling them with these delicious Pork Meatballs and crunchy Cucumber & Fennel Salad? This Mexican recipe is a taste sensation.
Ingredient List
Pork Meatballs
500 g pork mince
Old El Paso™ Stand 'n Stuff™ Soft Taco Kit
1 medium sized coarsely grated zucchini
Large handful coriander, washed and chopped
1 medium sized finely chopped onion
1 red capsicum, halved, deseeded, finely chopped
400 g can crushed tomatoes
Cucumber and Fennel Salad
50 g mixed lettuce
Handful coriander, washed and chopped (extra)
1 Lebanese cucumber, halved lengthways and sliced
1 small fennel bulb, thinly sliced
50 g crumbled feta
Juice of 1/2 lime
1 tablespoon olive oil
Preparation
For the Pork Meatballs: Place pork, Taco Spice Mix, zucchini and coriander in a bowl and mix until well combined. Take slightly heaped tablespoons of mixture and roll into 24 meatballs. Heat a little oil in a frying pan over medium high heat, add half the meatballs and brown. Remove from pan and brown remaining meatballs. Set aside.
In the same pan, heat a little more oil and cook onion and capsicum, over a medium heat until onion is soft. Add tomatoes to pan and simmer, stirring occasionally, for 5 minutes to a form a sauce. Return meatballs to pan and simmer gently for 10 minutes or until meatballs are cooked.
For warm Tortillas: Remove tortillas from pack and divide into 2 stacks. Microwave: on HIGH/1100 watts/100% power for 20 seconds* Oven: wrap in foil & heat in a pre-heated oven at 180˚C (160˚C fan forced) for 7 minutes.
DO NOT HEAT TORTILLAS IN THE PLASTIC PACKAGE
*Times may vary depending on microwave wattage.
For the Cucumber and Fennel Salad: Combine mixed lettuce, extra coriander, cucumber, fennel and feta. Toss with lime juice and olive oil.
Build your own Stand' n Stuff™ Tortillas with meatballs, salad and Taco Sauce.