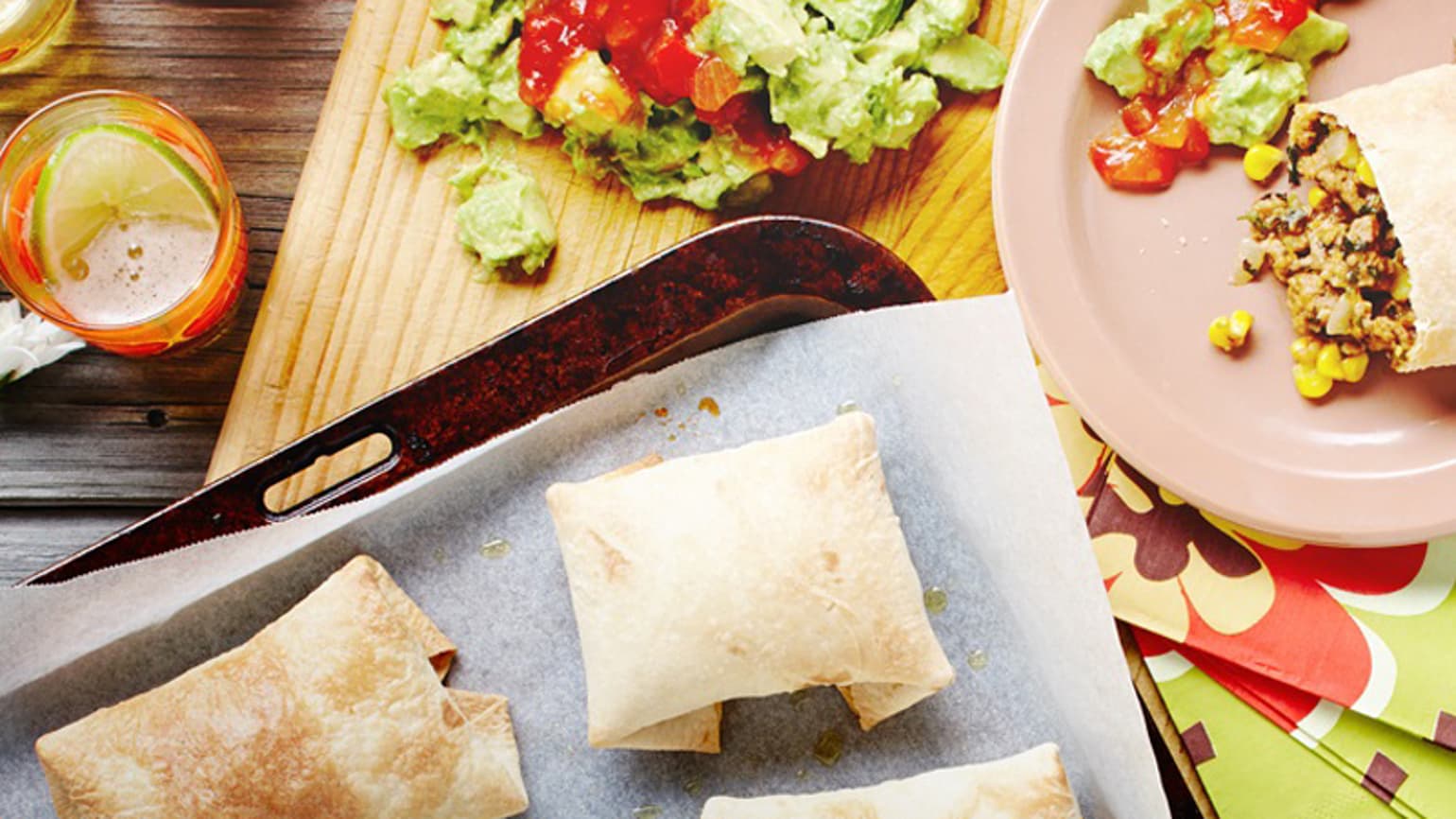 Beef and Cheese Chimichangas
This Old El Paso™ recipe makes 8 Beef and Cheese Chimichangas with a simple guacamole. Using our Burrito Kit and other fresh and tasty ingredients this recipe is simple to make and delicious to eat – a Mexican snack sure to please!
Ingredient List
1 finely chopped small onion
1 corn cob with kernels removed
600 g beef (or pork) mince
1 Old El Paso™ Burrito Kit
1/4 cup water
1 cup grated mozzarella cheese
Large handful of washed and finely chopped coriander
Simple Guacamole
1 mashed avocado
2 tablespoons sour cream
Juice of a lime
Preparation
Preheat oven to 180°C convention( 160◦C fan forced) Heat a little oil in a large frying pan over medium heat, add onion and corn, cook 5 minutes or until onion is soft. Add mince, stirring with a wooden spoon to break up lumps, cooking over medium heat for 5 minutes. Stir in Burrito Spice Mix, water and simmer for a further 3 minutes. Cool, and then fold through cheese and coriander.
For deliciously warm and soft Tortillas, follow on pack instructions.
Spoon 2 tablespoons of mince mixture onto centre of each Tortilla and fold in sides to create a parcel.
Place on a baking paper lined oven tray with folded side down. Spray liberally with olive oil spray. Bake for 17- 20 minutes or until golden brown.
To make the Simple Guacamole, using a fork simply mash together avocado, sour cream and lime juice together in a bowl.
Serve Chimichangas to the table with Simple Guacamole and Mild Mexican Salsa – they make a great snack or simple Mexican entrée everyone will love!