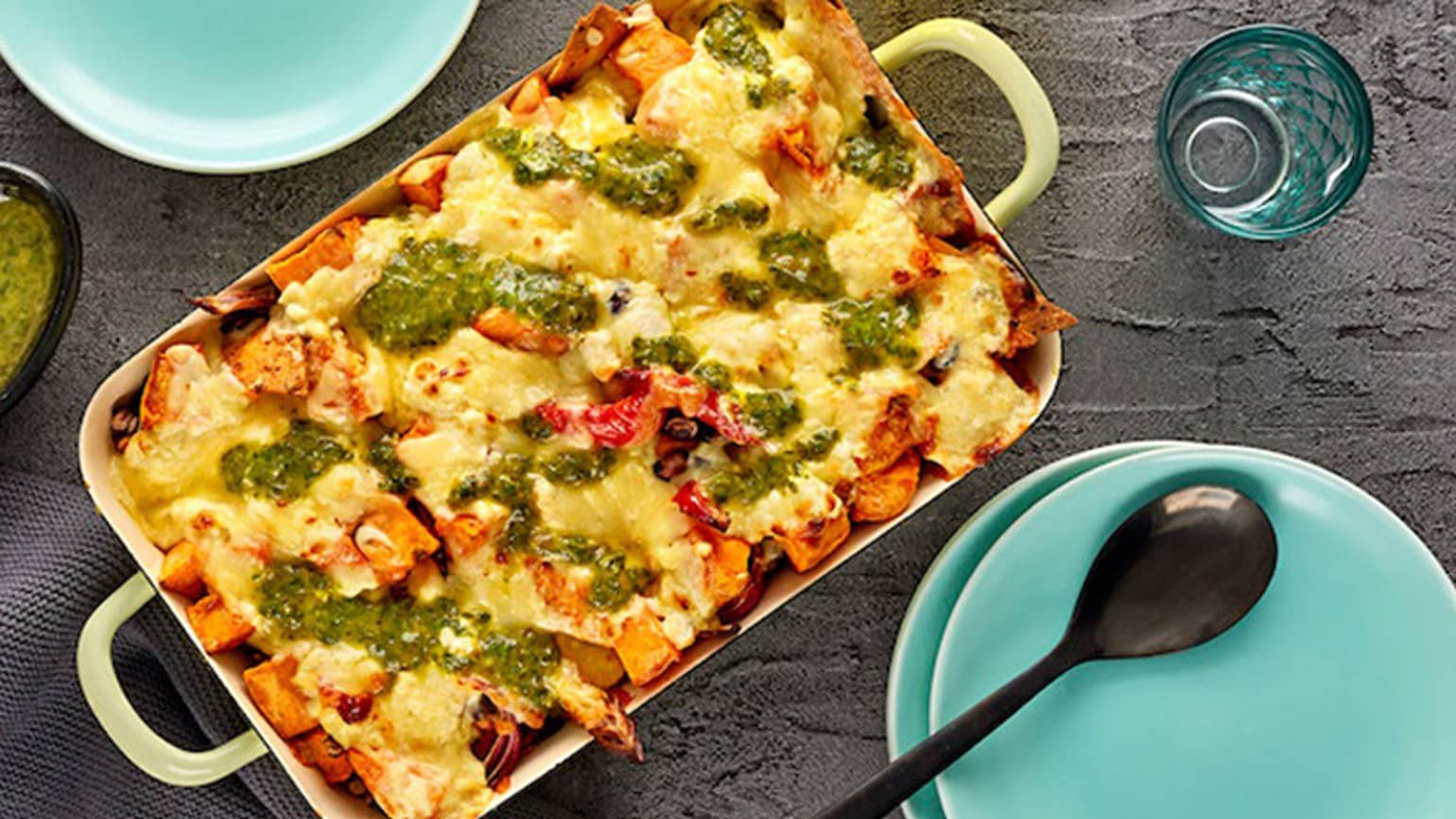 Vegetarian Nachos
Total Time
1 Hours
10 Minutes
Ingredient List
Old El Paso™ Mini Tortillas 10 Pack
1/4 cup olive oil
Old El Paso™ Taco Spice Mix
1 medium red onion, cut into thin wedges
1 medium red onion, cut into thin wedges
1 red capsicum, cut into strips
1 tbsp olive oil, extra
400g can Old El Paso™ Black Beans, well drained
2 1/2 cups grated tasty cheese
100g feta, crumbled
1 cup sour cream
Jalapeño Green Sauce
2 tbsp drained Old El Paso™ Green Jalapeños, from jar
1 small clove garlic, roughly chopped
1 bunch (2 cups) coriander leaves
Pinch of sea salt
Juice of 1 lime
2 teaspoons honey
1/4 cup extra virgin olive oil
Preparation
Preheat the oven to 200◦C (180◦C fan forced). Stack tortillas on top of each other and cut into 8 wedges. Combine oil and Taco Spice Mix in a large bowl. Add the tortilla wedges and toss to combine. Spread out in a flat layer on a baking paper lined oven tray. Bake for 6 minutes, or until golden and crispy. Turn, bake a further 4 minutes. Remove.
Increase oven temperature to 210◦C. Combine sweet potato, onion, capsicum and extra oil in a medium bowl and toss well. Place on lined oven tray and roast for 35-40 minutes, or until slightly golden and tender. Add the beans to the tray, mashing some.
Place a layer of half the tortilla chips in an oven proof dish. Top with half the sweet potato, onion, capsicum and beans.
Combine 2 cups tasty cheese, feta and sour cream in a medium bowl. Dollop half the cheese mixture over the vegetables. Top with remaining tortilla chips, sweet potato, onion, capsicum, beans and remaining cheese mixture. Sprinkle over any remaining cheese. Bake for 15 minutes or until golden and melted.
For the Jalapeño Green Sauce:
Combine and blend jalapeños, garlic, coriander and salt in a small food processor. Pour in lime juice, honey and oil and combine. Drizzle over the nachos to serve.