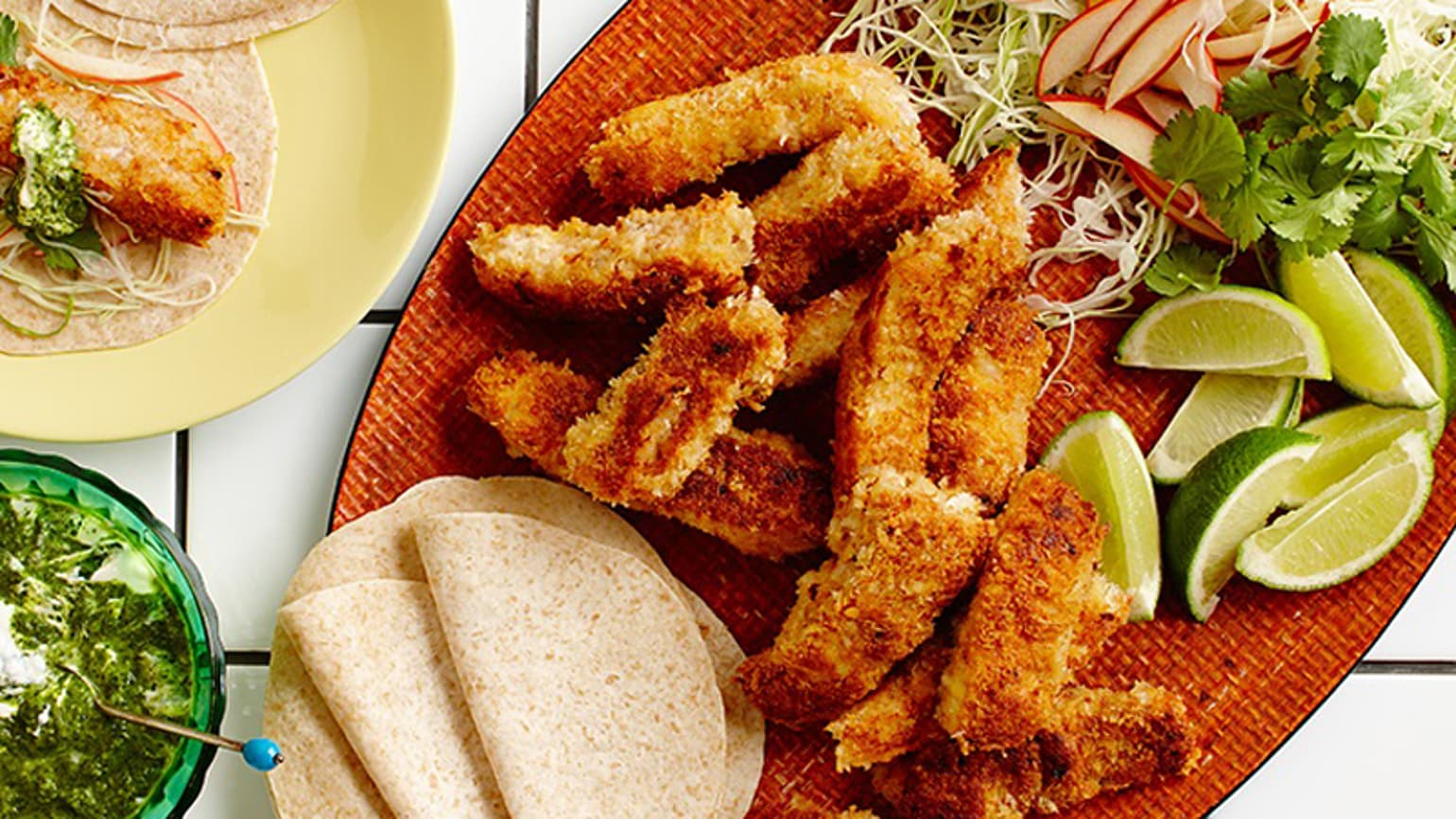 Fish and Sour Cream Tacos
In Mexico, fish is a popular filling for soft tacos and this delicious recipe shows how you can enjoy this Mexican classic at home with a few twists and shortcuts from Old El Paso™. Simply take our Mini Whole Grain Tortillas, Taco Spice Mix and some fresh ingredients and you'll have a tasty Mexican lunch of dinner everyone will love!
Ingredient List
1 egg
1 tablespoon water
650 grams firm fish fillets, cut into thick strips
Old El Paso ™ Taco Spice Mix
1 cup panko breadcrumbs
Crunchy Slaw
1/4 green cabbage, finely shredded
1 red apple, julienne with skin on
1 bunch fresh coriander, washed and roughly chopped
Green Sour Cream
1 bunch fresh mint, washed & leaves removed
1/2 bunch fresh parsley, washed & leaves removed
1 teaspoon ground cumin
1 clove garlic
2 tablespoon olive oil
1/2 cup light sour cream
1 tablespoon lime juice
Olive oil, for frying
Old El Paso™ Regular Wholegrain Tortillas 10pk
Lime wedges for serving
Preparation
Combine egg and water in a shallow bowl. Lightly whisk to combine. Place Taco Spice Mix in a shallow bowl. Place breadcrumbs onto a large plate.
Press fish in spice mix to coat. Dip fish in egg mixture, shaking off excess. Toss fish in breadcrumbs to coat.
For the Crunchy Slaw: Combine cabbage, apple and coriander to create a slaw.
For the Green Sour Cream: Combine mint, parsley, cumin, garlic, olive oil and lime juice in a food processor and blend until smooth, add sour cream and blend a further 15 seconds to form a creamy green sauce. Pour over slaw.
To cook the fish: Pour enough oil into a frying pan to come 1cm up side of pan. Heat over medium-high heat. Cook fish, in 2 batches, for 5 minutes, turning, or until golden and cooked through. Drain on paper towel.
For delicious Tortillas: Heat a non- stick frying pan over a medium heat and brown each tortilla for 10 seconds on one side only. Wrap in a tea towel until ready to serve or heat according to pack instructions.
Serve toasted tortillas, crispy fish, slaw and lime wedges to the table and build your own soft taco any way you like!