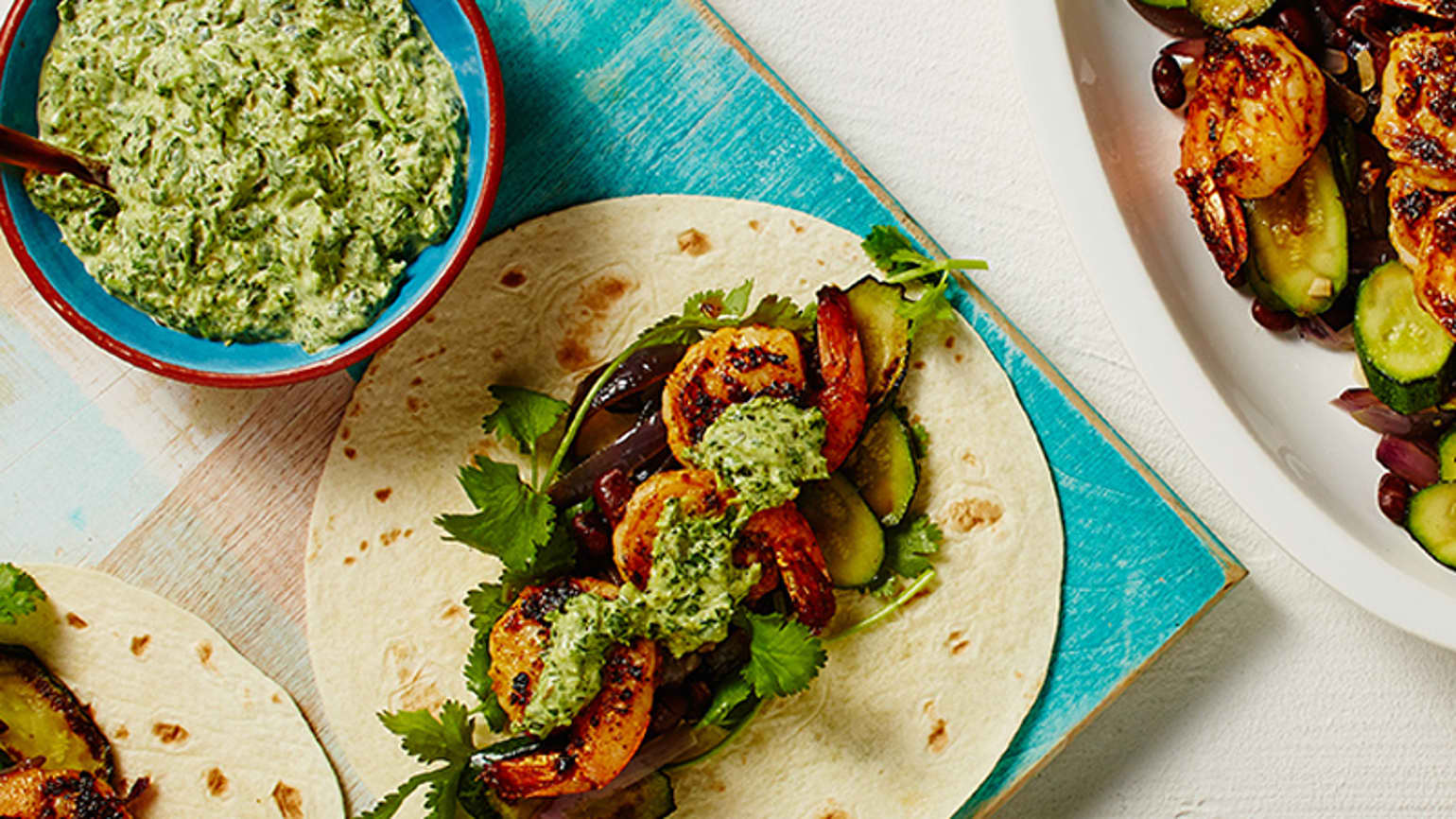 Grilled Prawn Fajitas
This mouth-watering Old El Paso™ prawn fajitas recipe serves 4 and includes delicious accompaniments such as Poblano Crème, a spiced sour cream. Packed with flavours like roasted chili and garlic, serve these soft tacos with lime wedges on the side for extra punch!
Ingredient List
1 Old El Paso™ Fajita Kit
400g (20 large) green prawn cutlets
3 tablespoons olive oil
1 jalapeno chili, seeded and finely diced
2 cloves garlic, finely chopped
425 g can Old El Paso™ Black Beans, drained & rinsed
1 red onion, cut in to thin wedges
2 medium (300g) zucchini sliced on diagonal
Poblano Creme
1 poblano chilie, (or 1 green jalapeno chili)
1 whole clove garlic
1 spring onion, chopped
1 handful fresh coriander leaves
1/2 cup (125ml), sour cream
Juice of 1/2 lime
To Serve
fresh coriander extra
lime wedges extra
Preparation
Preheat BBQ. Toss Fajita Seasoning with 2 tablespoons of the oil and prawns. Cook half the prawns for 2-3 minutes each side or until they turn pink and are cooked through. Repeat with remaining prawns. Set aside and keep warm.
Heat remaining oil in a medium sized frying pan over high heat. Add the zucchini and onion to the pan and sauté until golden, about 4 minutes. Add the chilli, garlic and black beans and sauté a further 1 minute until fragrant and heated through.
To roast chilli & garlic: Preheat grill to 220ᵒC (200ᵒC fan forced). Place the chilli on a baking tray with the cut side facing down with garlic clove. Grill until their skins blacken, about 8-10 minutes. Remove stem and seeds of chilli and peel garlic. Place roasted chilli and garlic with all other ingredients in a food processor and puree until smooth.
Warm tortillas according to pack directions or char grill on BBQ for 10 seconds.
Serve warm tortillas topped with zucchini and black bean mixture, prawns, roasted poblano creme, coriander, salsa and a squeeze of lime.