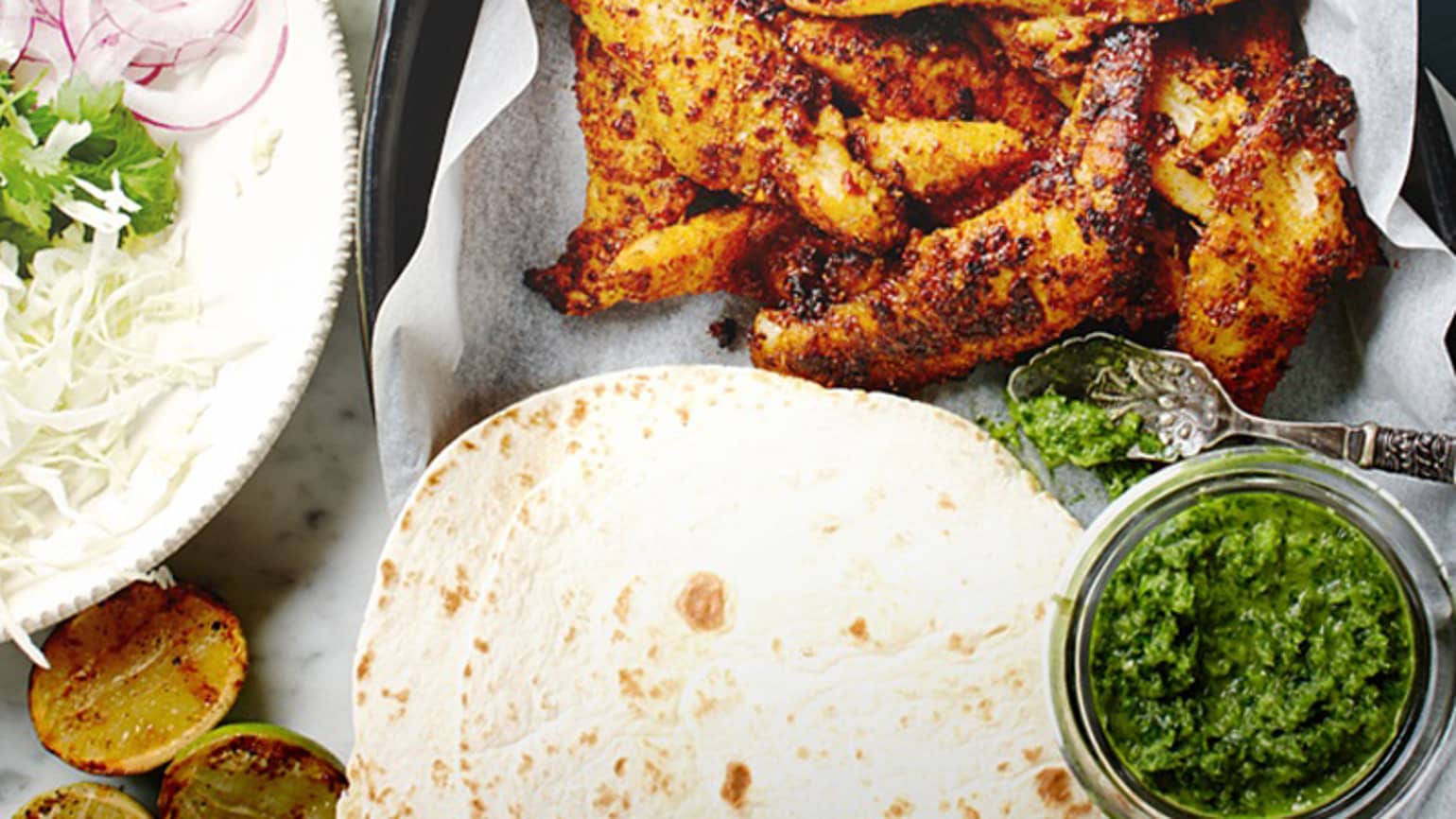 Blackened Fish Fajitas
This blackened fish Fajita recipe from Old El Paso™ is delicious and makes 6 using our Fajita Spice Mix and Tortillas. You'll love them for any lunch or dinner occasion! It's all about bringing the flavours of Mexico to your kitchen.
Ingredient List
2 tablespoons olive oil
1 Old El Paso™ Fajita Spice Mix
600 g boneless firm white fish fillets, sliced into long strips
2 halved limes
1 Old El Paso™ Tortillas (6pk)
1/2 cup light sour cream
1/4 teaspoon smoked paprika
1/4 teaspoon cayenne pepper
1/4 finely shaved green cabbage
1 sliced red onion
1 cucumber cut into matchsticks
Salsa verde
1 diced small white onion
1 seeded fresh jalapeno chilli
Juice of a lime, extra
2 large handfuls of washed coriander
2 tablespoon olive oil, extra
Preparation
Combine oil and Fajita Spice Mix in a bowl. Add fish and toss to coat. Preheat barbecue and cook fish for 3 minutes either side or until charred & cooked through. Remove from barbecue, cover and set aside to keep warm. Brown limes on barbecue, cut side down.
To create a deliciously fresh Salsa Verde, blend onion, jalapeno chili, lime juice (extra) coriander (leaves and stems) and olive oil in a small food processor or with a stick blender.
For authentic charred tortillas – open Tortilla pouch, discard Freshness Sachet. Remove tortillas from pouch and char on barbecue hot plate for 5 – 10 seconds on one side only or follow on pack instructions. Wrap in tea towel until ready to serve.
Combine sour cream, smoked paprika and cayenne pepper in a small bowl.
Serve blackened fish, charred limes and tortillas, cabbage, red onion and cucumber on a platter with Salsa Verde and seasoned sour cream. Fill your fajita with these delicious fillings any way you like!