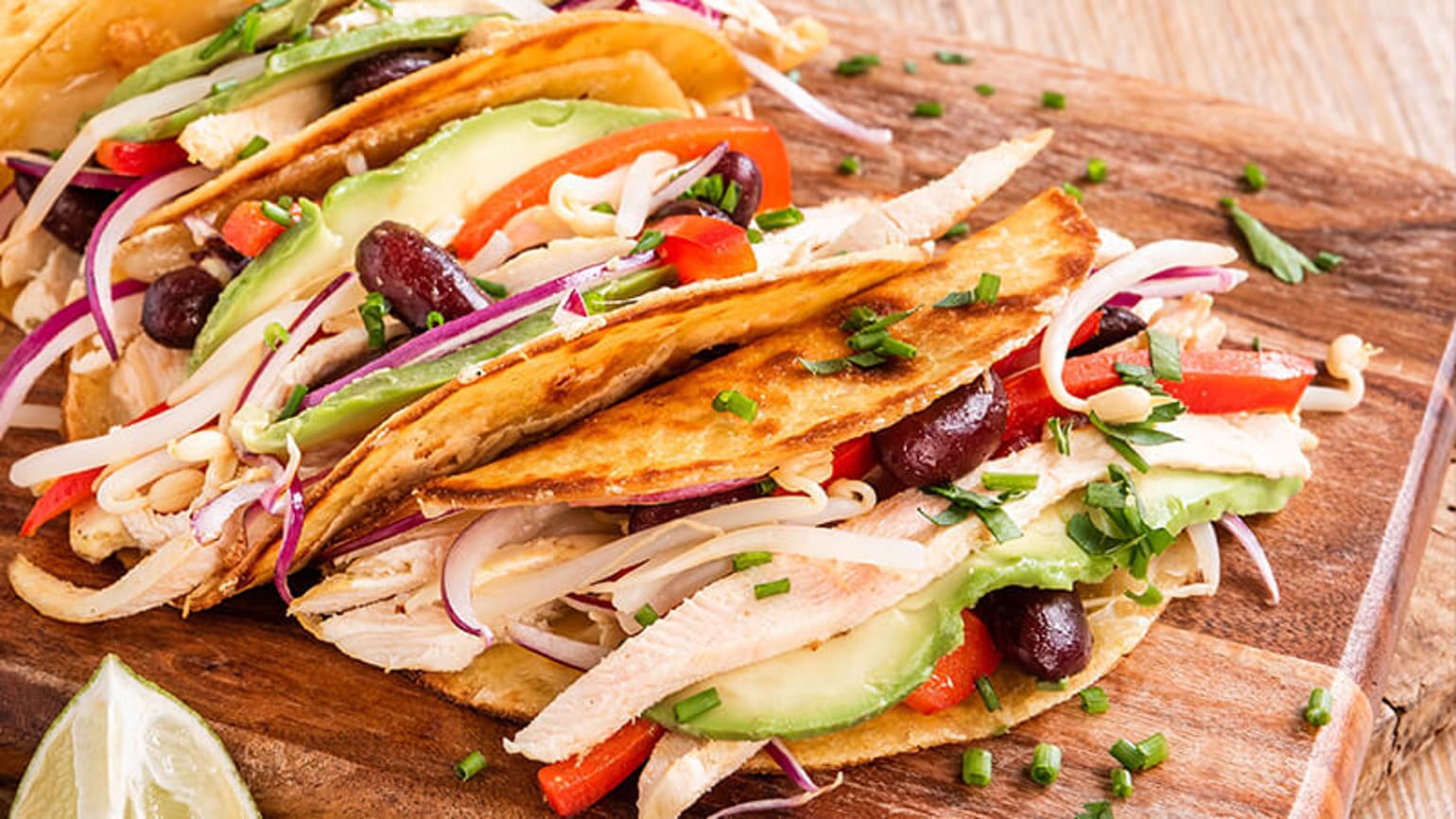 Poached Chicken Birria Tacos
Tuck into our tender chicken birria tacos that fuse Mexican cooking with Thai flavours!
Ingredient List
4 Old El Paso™ Super Soft Regular Flour Tortillas
4 Chicken Breasts
1 stalk of Lemongrass
1 teaspoon of Green Curry Paste
2 tablespoons of Olive Oil
Small bunch of Coriander
2 Avocados
Small bunch of Thai Basil
1 Red Onion
Small bunch of Chives
100 grams of Soybean Sprouts
1 Red Capsicum
1 can of Red Beans
1 tablespoon of Corn starch
Preparation
Prepare the brothIn a saucepan, add the olive oil and slowly increase to medium heat. Finely slice the lemongrass and put it into the saucepan. Add the green curry paste. Finely chop the Thai basil and add it into the pan as well. Cook all the ingredients for 5 minutes making sure to continuously stir to avoid them from catching. Add enough water to your saucepan to barely cover the ingredients and simmer for 20 minutes. Once done, remove the broth from your stove and keep warm.
Cook the chickenOnce the ingredients for the broth have been prepared as described above, add the 4 chicken breasts to your saucepan with the simmering broth and poach the breasts for 20 minutes. Remove the chicken breast from the broth and keep them warm on a covered plate or dish. Keep the broth in the pan. Cut your poached chicken breast into thin slices lengthwise.
Prepare the garnishesThinly slice the avocados, red onion and red capsicum. Wash the herbs and finely chop them. Rinse and dry your red beans.
Make the sauce Put your remaining broth back on your stove at a low temperature. Add 1 tablespoon of corn starch into the broth and stir to dissolve. The sauce should become slightly thicker and have a shiny, velvety finish.
Build your tacosPlace a tortilla into a hot pan with some butter. Leave for a minute or two on each side until slightly coloured. In each taco, fill with a few slices of avocado, chicken breast, red onion, red capsicum and fresh red beans. Garnish with a sprinkle of soybean sprouts and your finely chopped herbs. Finish with some grated cheddar or mozzarella cheese. Fold up your taco and don't forget to dunk it with your sauce!