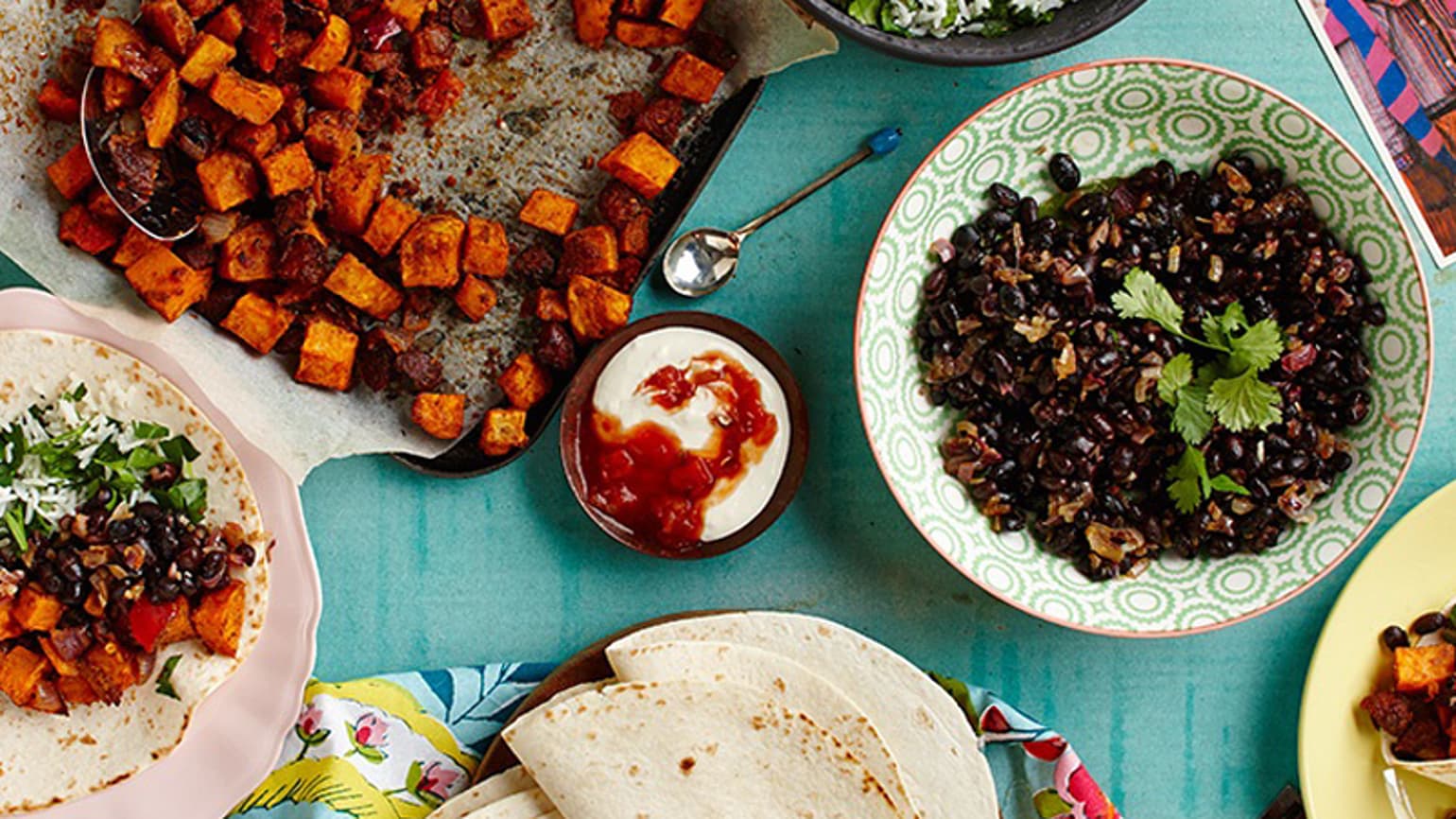 Sweet Potato and Chorizo Burrito
These Sweet Potato and Chorizo Burritos from Old El Paso™ are made with a simple Mexican recipe. All you need is Old El Paso™ Tortillas, Burrito Spice Mix and Black Beans plus few fresh and you'll have a delicious Mexican meal everyone will love!
Ingredient List
1 large sweet potato, chopped into 1cm dice
1 small diced red onion
1 chopped chorizo sausage
3 halved garlic cloves
1/2 diced red capsicum
1/2 cup olive oil
1/2 sachet Old El Paso™ Burrito Spice Mix
Old El Paso™ Tortillas (6pkt)
600 g Mexican Black Bean Salsa
1 clove crushed garlic (extra)
1 small finely chopped red onion
1/2 teaspoon smoked paprika
1/2 teaspoon ground cumin
400 g can Old El Paso™ Black Beans, drained & rinsed
Lime Coriander Rice
1 lime, halved (with half reserved)
250 g sachet precooked microwave white rice
Large handful fresh coriander, chopped
Preparation
Preheat oven to 200˚C conventional (190˚C fan forced). Line an oven tray with baking paper. Toss sweet potatoes, onion, chorizo, garlic and red capsicum in olive oil and Burrito Spice Mix and bake for 30 – 35 minutes or until vegetables are golden brown.
To make Mexican Black Bean Salsa: heat a little oil in a pan and cook garlic, onion, paprika and cumin over a medium heat or until onion is soft. Add black beans and juice of half a lime. Stir beans until well combined.
To make Lime Coriander Rice: heat rice according to pack directions. Stir through juice of remaining ½ lime and coriander.
For pan toasted tortillas: heat a non- stick frying pan over a medium heat and brown each tortilla for 10 seconds on one side only. Wrap in a tea towel until ready to serve.
Fill toasted tortillas anyway you like with roasted sweet potato and chorizo, Mexican Black Bean Salsa and Lime Coriander Rice then fold to create a hearty Burrito!