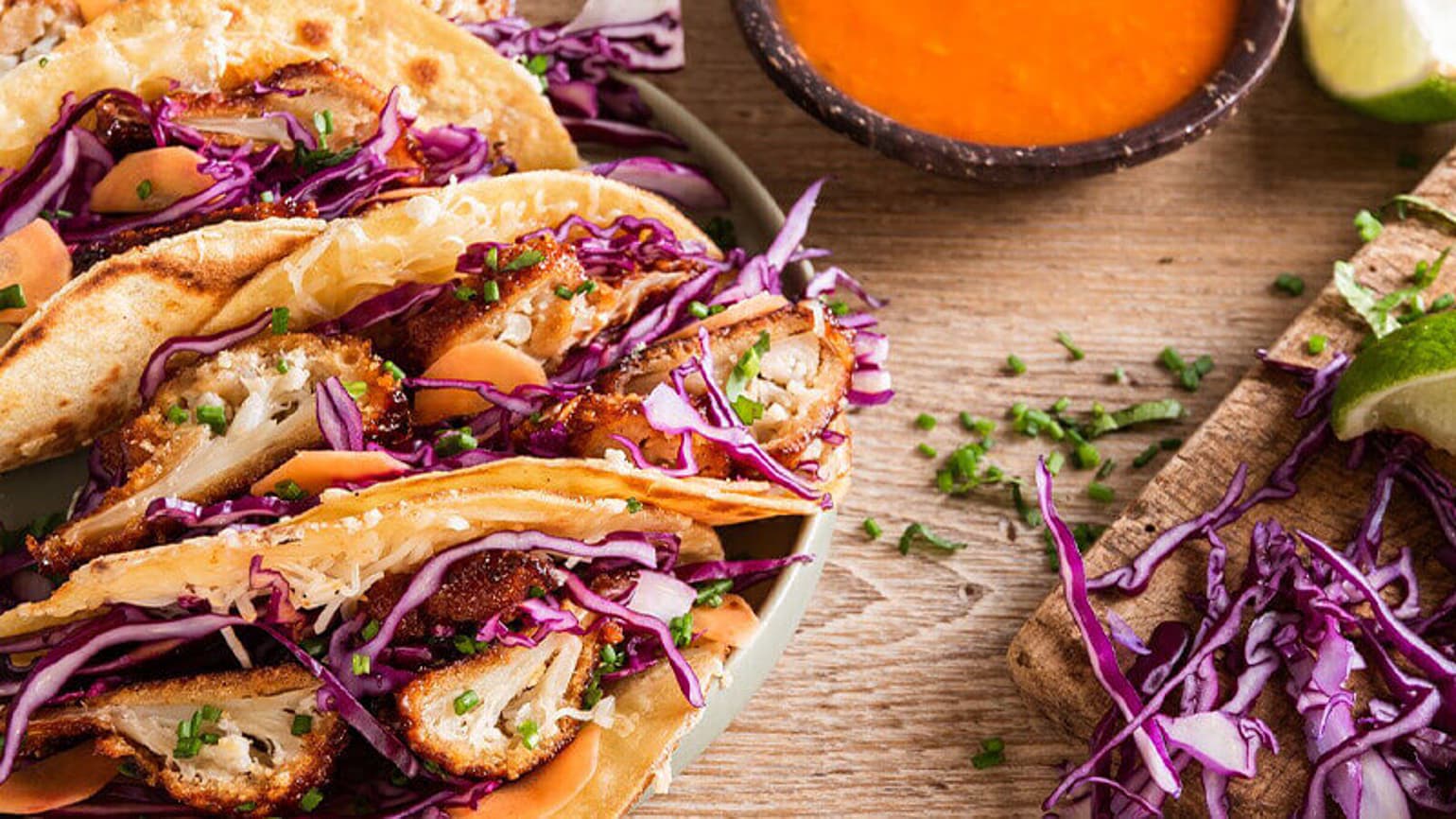 Vegan Cauliflower Birria Tacos
Rich and smoky, our vegan cauliflower birria tacos deliver on all the classic Mexican flavours without the meat!
Total Time
1 Hours
20 Minutes
Ingredient List
4 Old El Paso™ Super Soft Regular Flour Tortillas
1 small head of Cauliflower
100 grams of Breadcrumbs
100 grams of Flour
1 tsp of Garlic Powder
1 tsp of Paprika
90 ml of non-dairy Milk
1 pot of vegan BBQ Sauce
1/4 Red Cabbage
Small bunch of Parsley
Small bunch of Chives
1 Carrot
20 ml Cider Vinegar
100 grams of Sugar
Shredded Vegan cheese like Coconut Cheese
Preparation
Prepare the cauliflowerPreheat the oven to 180°C and cover a baking tin with greaseproof paper. Combine your flour, non-dairy milk, garlic and paprika. Whisk together until smooth. Cut the cauliflower into small to medium-sized florets of a similar size. Dip the florets in your batter and then coat them in the breadcrumbs. Place them on the baking tray and make sure to evenly space them out for them to cook properly. Bake for 25 minutes.While the cauliflower is cooking, mix the vegan BBQ sauce with the olive oil. Remove the cauliflower from the oven and coat the cauliflower with the vegan BBQ sauce mixture. Return to the oven for another 20 minutes to caramelise.
Make the pickled carrotsPeel and finely slice the carrot and set aside. Gently heat the cider vinegar with your sugar in a small saucepan. Once thoroughly combined, pour the hot liquid on top of your carrots and let them marinate while finishing the rest of the meal.
Make the sauceMelt 5 tablespoons of vegan BBQ sauce with 2 tablespoons of coconut cream until well combined.
Prepare the vegetablesWash your vegetables and finely slice the red cabbage. Roughly chop the parsley and chives.
Build your tacosPlace a tortilla each into a hot pan with some butter. Leave for a minute or two on each side until slightly coloured.Once the tortillas are cooked, add some red cabbage and a few florets of cauliflower into each tortilla. Top with your chives, parsley and shredded coconut cheese. Serve with your sauce and enjoy!