Easy Guacamole Recipes
November 08, 2021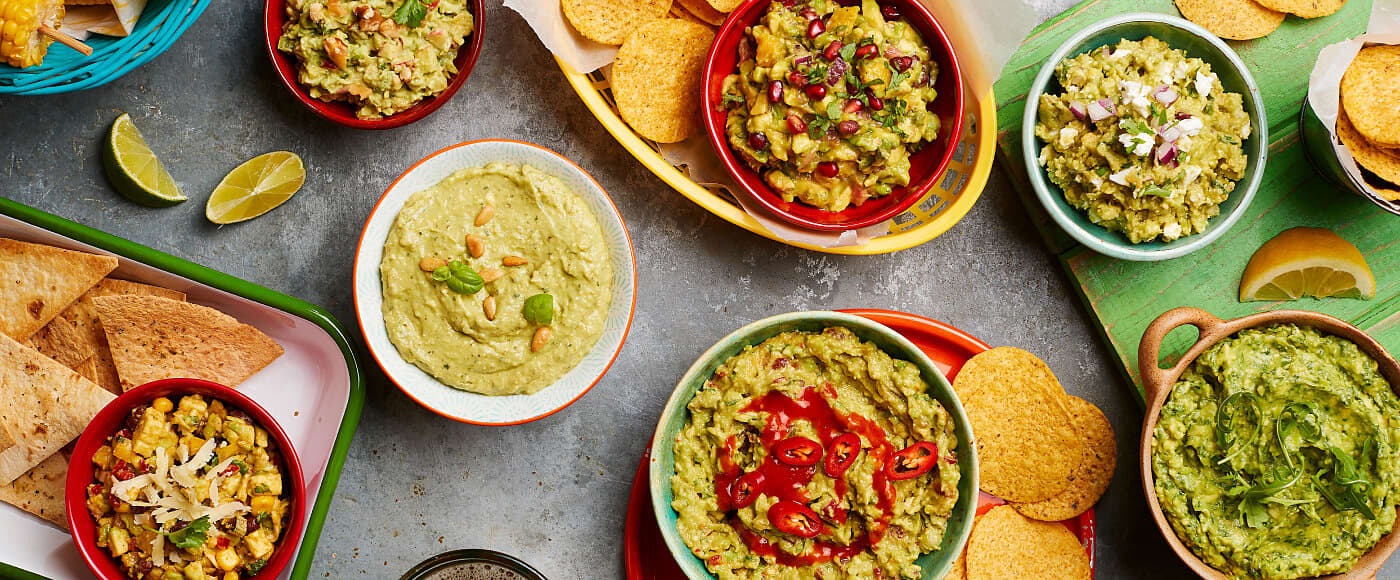 Whether it's to get the evening started or enjoy as a side dish throughout the meal, guacamole is a must for your next Mexican feast! Try something a bit different with these easy guacamole recipes that mix things up and take you on a trip round the world, from Italy to America, Greece to Spain.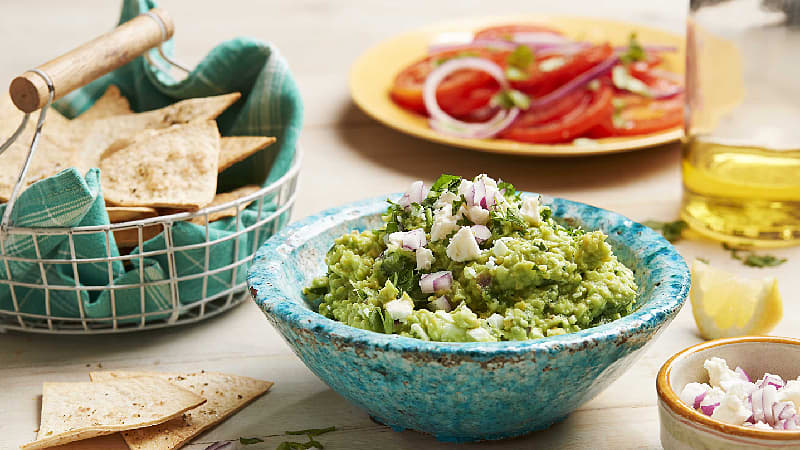 Creamy Greek Guacamole
This creamy Greek guacamole packs all the taste of the Mediterranean in one delicious side dish!
Recipe Name
Creamy Greek Guacamole
Total Time
1 hour and 20 minutes
Spice Level
Mild
Servings
6
Ingredients
215g tin chickpeas, drained and rinsed (130g drained weight)
1 garlic clove, chopped
1 small red onion, finely chopped
2 tablespoons lemon juice
2 large ripe avocados, peeled, stones removed and flesh chopped
1/4 teaspoon salt
3 tablespoons freshly chopped flat-leaf parsley
80g feta cheese, crumbled
Preparation
Place the chickpeas, garlic, onion (reserving 1/2 tablespoon for garnish), lemon juice and avocado in a food processor and pulse until almost smooth, scraping down the sides of the bowl as needed. Transfer to a serving bowl and stir in the salt and nearly all the parsley and feta cheese. Season with freshly ground black pepper, if you like.
Cover the surface closely with cling film and refrigerate for 1 hour to allow the flavours to blend. Garnish with the reserved onion and the remaining parsley and feta cheese and serve.
Expert Tips
Stir 50g drained and finely chopped roasted capsicums (from a jar) into the guacamole just before serving, if you like.
For extra flavour marinate the crumbled feta in 1 tablespoon extra virgin olive oil and 1/2 teaspoon dried oregano for 10 minutes before stirring into the mixture.
Serve with home-made tortilla chips, if you like. To make, lightly brush 4 Old El Paso™ Regular Flour Tortillas with a mix of olive oil and lime juice. Cut each tortilla into 6 triangles and spread on a large baking tray. Season with salt and freshly ground black pepper and sprinkle with a little dried oregano. Bake at 200°C (180°C for fan assisted ovens), gas mark 6 for 6-8 minutes, until golden and crisp. Cool.
Don't just dip! Roast halved and deseeded mini sweet capsicums until tender and lighty charred. Cool, then fill each capsicum half with a spoonful of the guac, scatter over chopped olives and drizzle with a little extra virgin olive oil.
Cooking Vegetarian? Always read labels to make sure each recipe ingredient is vegetarian. Products and ingredient sources can change.
You can't make a good guac without ripe avocados. To test for ripeness, cradle the avocado in the palm of your hand – it should yield to gentle pressure, just like a ripe peach. Don't squeeze too hard or you will bruise the flesh. Very ripe avocados may have a few areas of discoloured flesh.
Cut away and discard any big patches but don't worry about smaller spots as they won't spoil the look or flavour of the finished guac.
For a chunky guac, use the back of a fork, potato masher or pastry cutter to mash the flesh or just finely chop with a sharp knife.
More Delicious Guacamole Recipes
Fresh Citrus Guacamole

Looking for something fruity? Our Fresh Citrus Guacamole is a refreshing starter or side dish with sweet grapefruit and orange.[No text in field]

Smooth Pesto Guacamole

Take a trip to Italy with this Smooth Pesto Guacamole combined with silky creme fraiche and topped with pine nuts.

Chunky Chilli Guacamole

If you like a little heat in your Mexican dishes, our Chunky Chilli Guacamole is for you. Fire up the flavour and enjoy!

Tangy Lemon & Rocket Guacamole

Add a little sophistication to the dinner table with this Tangy Lemon & Rocket Guacamole, perfect for sharing.
If you prefer a creamy smooth guac use a food processor or blender – pulse briefly then scrape down the sides of the bowl or jug and pulse again. Take care not to over process or the guac may become sloppy.
Avocado flesh discolours quickly so don't prep until you are ready to mix with the other ingredients.
Cover the surface of the finished guac very closely with cling film or a layer of baking paper, pressed onto the surface. Any area exposed to the air will start to discolour.
Minted Pea Guacamole

Made with frozen peas and Greek-style yoghurt, our Minted Pea Guacamole is a creamy treat that won't disappoint!

Spanish Style Guacamole

Enjoy a tapas twist on Mexican night with our Spanish Style Guacamole, loaded with Padrón peppers and chorizo.

Tex Mex Guacamole

Our chunky Tex Mex Guacamole is packed with classic flavours, from capsicums to chilli, cheese and beans.

Crunchy Waldorf Guacamole

Feeling fancy? Try our take on the iconic salad with this Crunchy Waldorf Guacamole, complete with apple, celery and walnuts.
Chilling guac for at least an hour before serving will help the flavours to develop but if you're short on time you can skip this step. Just make and serve.
For the freshest taste, guac is best served on the day of making, but it will keep in the fridge for 2-3 days. If the surface has discoloured, just give it a good stir.
Give the guac a quick taste after chilling and before serving – you may find it needs little more salt or an extra squeeze of lime or lemon juice.
If you're going for a hot guac with red or green chillies added, remember that the chilli flavour may become more intense with time. To cool down an over-spicy guac stir in another mashed avocado before serving.